Silicone bakeware is becoming more popular in the market nowadays. Perhaps you have encountered one as a funky and brightly-colored pan, mold, or spatula. If you're new to baking, chances are you are more familiar with metal bakeware. You might be hesitant to use silicone for your baking needs because of the fact that it is made of plastic.
Worry not because most high-quality silicone bakewares are safe to use at high temperatures. Does that mean you can readily put them directly onto the oven rack during baking? Read on to know the answer.
Do you put silicone bakeware directly on the oven rack?
The short answer is yes — you can put silicone bakeware directly on the oven rack provided it is FDA-approved and food-grade. High-quality silicone bakeware can withstand temperatures up to 500°F. For smaller silicone bakewares such as cupcake cups, cookie sheets may be needed to avoid unwanted spillage of the batter.
Silicone Bakeware and the Basics you Need to Know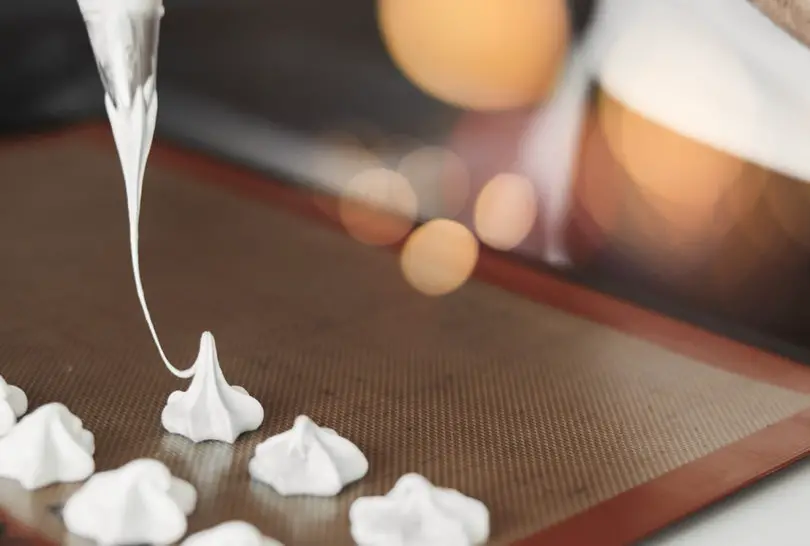 As silicone is non-toxic and resistant to stains, it has become an attractive replacement to metal bakeware. Silicone is conductive of heat and can absorb up to 500°F, making it safe to use in very hot temperatures. It is also washable and reusable.
Because silicone-based bakeware is versatile and inexpensive, you can collect a diverse set of shapes and molds for your recipes. Small baking molds are easy to find. They are rigid and are much less likely to cause your baked goods to crack compared to larger pans. They may also double as serving containers or cups at parties or gatherings. 
The use of silicone bakeware in general, produces varying degrees of success. It works for some but not for others. As they become more prevalent in the market, some of the silicone products are of low quality. They may be made with impurities or filler materials that can have disastrous effects on your food. A knock-off silicone material can be distinguished by a white color that surfaces when it is twisted or stretched. 
How to Use Silicone Bakeware for Baking
Pans made of silicone are safe in the oven as well as in the microwave. Applying a cooking spray before use is suggested but is not really needed as silicone by itself is essentially non-stick. 
Since silicone bakewares are flexible, they are easy to place and take out of the oven. However, there is still a good chance that spillage may occur. Putting silicone bakeware on cookie sheets or similar components will make things more manageable.
After baking, put your baked goods in a cooling rack so the cooked batter can temper all the way through. The best part about baking or cooking with silicone bakeware is peeling it right off. You can just flip the pan and snag the cake. Cool it a bit and then you are ready to enjoy your cake.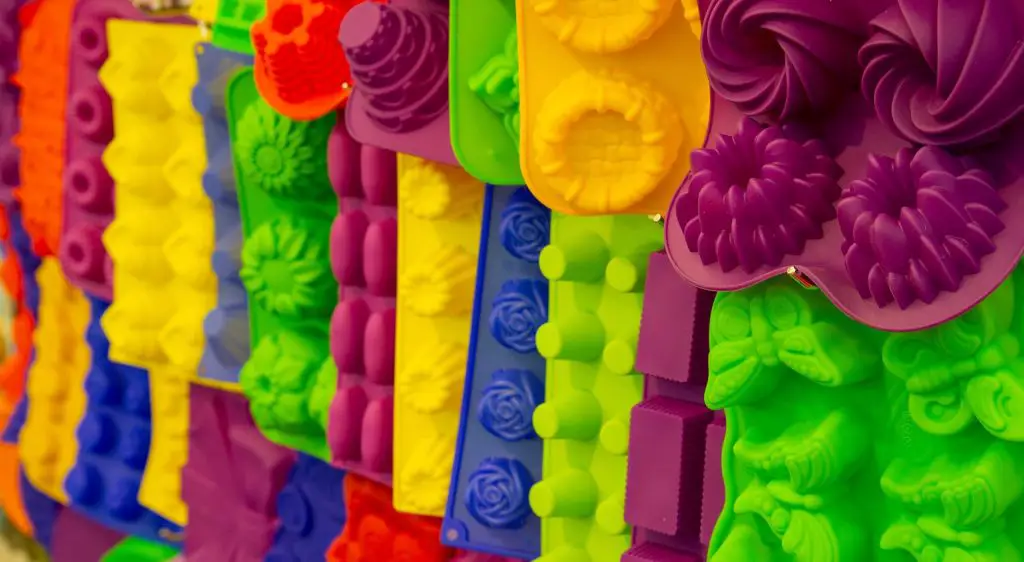 What are the Pros of Silicone Bakeware?
Bakewares made of silicone will look new even after a few years of usage. A slight bend or twist of the pan reveals an evenly baked cake. Easy removal literally takes the cake.
Silicone bakeware is also refrigerator, freezer, microwave, and oven safe. Cleaning up is a breeze due to its non-stick properties. You can just chuck it in the dishwasher. Unlike metal, silicone does not rust nor does it stain. It retains shape even when placed inside storage cabinets. 
You can tell good quality silicone apart if it does not emit any foul odor or discolor with use.  Lastly, silicone bakeware comes in fun shapes, colors, and sizes so you can be experimental with your baking.
What are the Cons?
The use of silicone bakewares may sometimes result in spills as they can be quite unstable in an oven rack. Placing silicone bakeware on top of cookie sheets can help mitigate this.
Not all silicone bakewares are made of the same high quality materials. Lower quality silicone contains fillers or additives which may cause nasty odors. Bad tastes may also transfer onto your food during baking. Do not be surprised if you have to try several baking pans before you start to distinguish what brand works for you and what doesn't. At the end of the day, make sure to purchase from well-known brands only to prevent knock-offs.
Sharp objects risk cutting or puncturing silicone bakeware as it isn't as strong or durable as its counterparts. It may crack or tear if not handled in a gentle way. As such, removing baked items with metal is not recommended.  
When do I Use Metal, Glass, or Ceramic Bakeware?
Metal bakeware is superior in terms of heat conduction. Compared to stainless steel, aluminum is the better conductor of heat and bakes food more evenly. However, care must be taken in using aluminum to store your food as it can react with certain acids in the food. Because of this, some sort of metallic flavour can be transferred onto your food. 
Glass bakewares are also excellent at conducting heat. They are stable and non-reactive, making storing products in them ideal. You will not have to worry about unwanted tastes or flavours in your food. However, with glass bakeware, recipes with a lot of sugar may start to burn before being cooked all the way through. 
Ceramic bakeware shares the same excellent heat conduction as its glass counterpart, although it can cause over-browning in sweet recipes as well. Another one of ceramic's biggest selling points is the fact that food can readily be served in its original baking dish.
When is it Best to Use Silicone Bakeware?
Compared to the other materials above, silicone is a relatively poor conductor of heat. This leads to little browning of your baked goods. Therefore, silicone bakeware is best used for light-colored cakes, loafs, and muffins and where sticking may be an issue. 
Since silicone bakeware has a reputation of being hit-or-miss, it is advisable to only use brands that are known for their high quality. If you are using high quality silicone bakeware, you can directly put them on the oven rack. However, cookie sheets may be needed for smaller silicone bakewares that are used for cupcakes, muffins, and the like.