Silicone mats are a popular choice for baking, because they're non-stick, easy to clean, and surprisingly budget friendly. 
But are silicone baking mats safe? Short answer, yes. There's a reason silicone is the preferred choice for many kitchen implements. Silicone is safe to use, won't leech flavors or smells, and you can use it in the oven, dishwasher, and almost anywhere else. 
What is a silicone baking mat?
Silicone baking mats are designed to be a non-stick surface that you can use for baking, instead of parchment paper. The reason silicone mats are becoming much more popular is because, unlike parchment paper, they're completely reusable, as well as being safe and easy to clean. 
Mats come in almost all shapes and sizes, meaning that you're almost certain to be able to find one that fits your baking trays. 
Silicone also has the advantage of being highly temperature resistant, meaning that silicone mats are the perfect choice if you regularly cook things that are very hot, or particularly sticky, for example peanut brittle or caramelized sugar.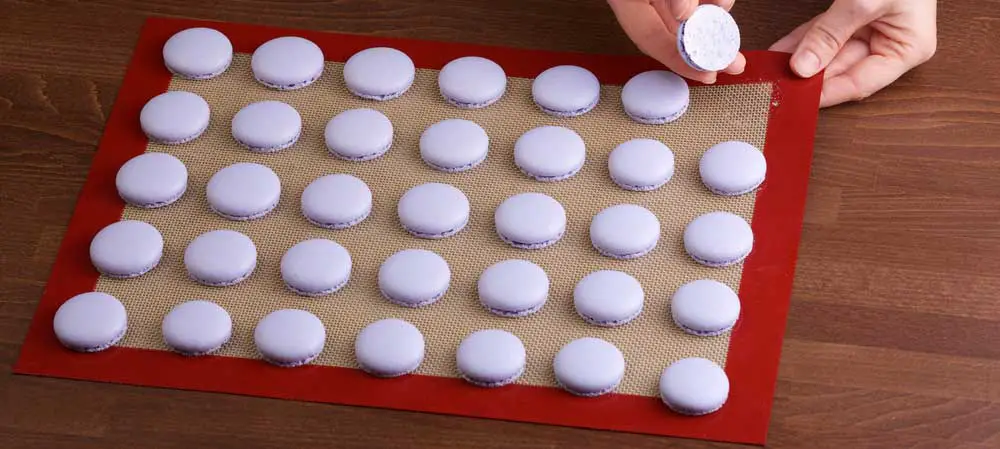 What can a silicone baking mat be used for?
Silicone baking mats are surprisingly versatile, with a wide list of possible uses. Uses for silicone baking mats might include:
Substituting for aluminum foil or parchment paper when baking
Keeping your baking trays clean
Acting as a mat when kneading dough or making cookies
As a tray for food that's going into the oven
As a cover, to make sure that baked goods rise evenly
Putting under a cake ring to stop it from sticking
Are silicone baking mats non-stick?
Yes, silicone baking mats are designed to be non-stick, and as long as they are regularly cleaned and well maintained, they will stay non-stick over their lifespan. 
One thing to bear in mind is to be careful with knives around your mats. Once the non-stick surface has been scratched or penetrated, it's harder to clean and will slowly break down over time. 
How do you clean a silicone baking mat?
Silicone baking mats are really simple to clean. Soap and warm water is generally all it takes to keep them clean.
Silicone can take a while to dry, so the best method is to wipe down with a dry cloth, then leave overnight to air dry. 
Why are silicone baking mats so safe?
There's two reasons that silicone mats are so safe. The first is that they're relatively soft and pliable, which means that they're safe in operation, ie around the kitchen. You're not going to damage anything with the corners of your mat, you can't drop it and hurt anyone, and even if you slip with a knife, it's just going to sink harmlessly into the silicone structure of the mat. 
Second, silicone is inert and unreactive. That means that silicone baking mats are perfectly safe to use in almost every environment possible. The oven, the freezer, the microwave, outside, inside, wherever!
Are silicone baking mats safe to use in the dishwasher?
Absolutely. Most, if not all silicone kitchen products are dishwasher safe, so lay them flat or roll them up and put them on the top rack of your dishwasher. 
Run a normal cycle along with all of your normal washing, and leave to air dry when it's done. 
Are silicone baking mats toxic?
High-quality silicone baking mats and trays should always be made from food-grade, BPA free silicone which is entirely non-toxic and entirely safe to use for cooking. 
Silicone is made mostly from silica, (sand, to you and me.) Because of this, and because of the creation process, silicone mats are almost entirely unreactive, and won't create any toxic or dangerous fumes, even if they're burned or damaged.  
Can silicone ever leach into food?
Unlike plastics, silicone doesn't leach into food when heated or frozen, and won't ever give off any hazardous gasses or chemicals. 
When buying silicone mats, make sure that they're labelled food safe, because this means that the silicone won't have any contaminants or other toxic chemicals. 
Are silicone baking mats oven safe?
Silicone can take incredibly high temperatures without issue, up to several hundred degrees fahrenheit, which means that most silicone mats are absolutely safe to use in the oven. 
As always, check your particular mat to make sure, but most good mats from reputable brands will be safe to use in the oven. 
Can silicone mats be used in the freezer? 
As with high temperatures, silicone can take very low temperatures, making silicone mats also perfectly safe to use in the freezer. 
Silicone also has some natural give, meaning it can stretch and flex. This is another reason why certain kitchen implements are jumping on board the silicone train. 
Is silicone safe for children?
Yes, you can. In fact, silicone might be the material of choice for children's products, especially items aimed at younger children and babies. 
The reason is simple, and it's one we've repeated several times. Silicone is absolutely safe in almost every environment, completely non-toxic, as well as being soft and pliable, so less likely to cause injury. 
Because of this, you can find child and baby products of almost every description made from silicone, including plates, bibs, bottles and more. 
This also means that you can bake away free in the knowledge that whether you're baking cookies for your little one, or a cake for a special occasion, it's going to be safe and healthy for everyone involved.