At first glance, wax paper and other options like parchment paper might look and even feel very similar. But mixing these things up can lead to very different results. 
So, can you bake cookies on wax paper? The simple answer is no. Wax paper isn't heat resistant at all. The thin wax coating that makes wax paper waterproof will melt in your oven, ruining your cookies, and the paper itself could potentially catch fire. In short, never put wax paper in your oven. 
What should you use instead of wax paper?
There are several safe options that you can use instead of wax paper, including:
A greased pan
Instead of using wax paper or anything else, you can line your pan with butter or a non-stick spray to help your cookies lift from it once they're cooked. However, cookies can still stick using this method, so we recommend either:
Parchment paper
Similar in look and feel to wax paper, parchment paper has been made with silicone as part of the process. This gives it a huge amount of heat resistance, making it safe for oven use. Most parchment papers will be heat resistant up to around 450 degrees, and even at hotter temperatures, should only brown and roll at the edges, rather than burning. 
Parchment paper comes in brown and white varieties. The only real difference is the color, and it should have no impact on your cooking process. 
One of the best options for baking cookies, or just for baking in general, are silicone baking pads or mats. Completely safe, toxin free, non-stick and reasonably cheap, silicone baking pads can be safely used in the oven, freezer, microwave, and almost anywhere else. 
What can wax paper be safely used for?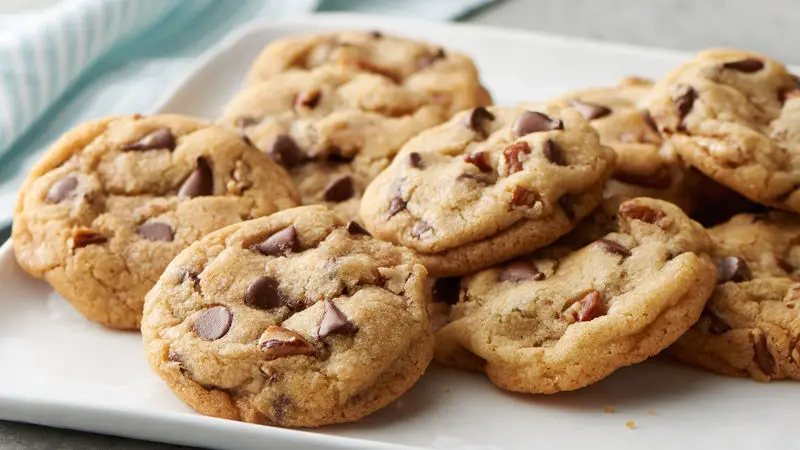 Wax paper is thin paper that has a coating of wax on both sides, which is designed to make it both moisture resistant, as well as non-stick for easy food removal. 
Because of this, wax paper is great for rolling out doughs, lining a pan for non-baked treats, when icing a cake or dusting icing sugar onto cookies, or used as a working surface for meats like chicken cutlets. 
Wax paper is also a great choice if you're looking for a working surface in general. The moisture resistant and non-stick qualities mean that you can just throw ingredients straight down onto the paper, work with them, then lift the paper up and pour whatever is on top of it straight into a second bowl or pan without issues. 
Finally, wax paper is a great wrapping material, whether for lunches that you want to keep fresh nd moist, or for things like butter and cheese that's being put back in the refrigerator. 
Yes. Like parchment paper and silicone mats, aluminum foil is a completely safe way to bake your cookies in the oven, but there are several reasons why this isn't recommended, which is why it's not included in our list of options above. 
Firstly, aluminum foil isn't non-stick, meaning that your cookies are going to stick to the foil and peel it away when you try and take them off of the tray, unless you heavily grease it. And if you're already greasing the foil, why not just bake your cookies on a greased try directly? 
Second, and the bigger reason not to do this, is that aluminum is a highly reflective and heat conductive surface. 
This means it's going to heat up fast, and could mean that your cookies end up with bases that are overcooked, or even burned. 
In our opinion, it's better to stick to parchment paper or silicone baking mats when baking tasty treats like cookies. 
Most cookie recipes let you bake them directly from frozen. Frozen cookies should be kept in an airtight container, and will last up to 3 months when frozen. 
When you're ready to bake, preheat your oven to 375 degrees, then bake your cookies directly from frozen for 12 to 15 minutes, or until the edges are crispy and golden brown.  
Microwaves can be used to bake almost any kind of dessert, cookies included, but the method is slightly different from oven baking. 
As with the oven, you can bake cookies in a microwave as straight dough, or from frozen. 
There's no need to preheat or defrost your cookie dough. Simply microwave for 30 seconds, and your cookies should emerge from the microwave with crisp edges and a gooey center. If your cookies aren't cooked after 30 seconds, continue to cook them in 15 second increments. 
Remember, when baking using your microwave, just as with your oven, use parchment paper or microwave-safe silicone baking mats. Always avoid wax paper when baking, whether with cookies or anything else.