Midway into baking my very first cake, I realized that I did not have a cooling rack like the recipe asked for. Shrugging it off, I decided to let my cake cool on the pan by the counter. At that time, I was unaware that cooling racks help lower the cake's temperature by providing enough area for air to flow through.
Suffice to say, my cake ended up with lots of moisture at the bottom, rendering it all mushy. I have learned my lesson the hard way, don't make the same mistake as I did. If you don't have a cooling rack readily available, below are a few items you can use in its place.
How do you cool a cake without a cooling rack?
If you do not have a cooling rack, home items can be used as substitutes. A suitable alternative to a cooling rack should be elevated to allow enough air to move below the baked goodies. For instance, you can use that extra rack out of the oven, provided it is cool and clean.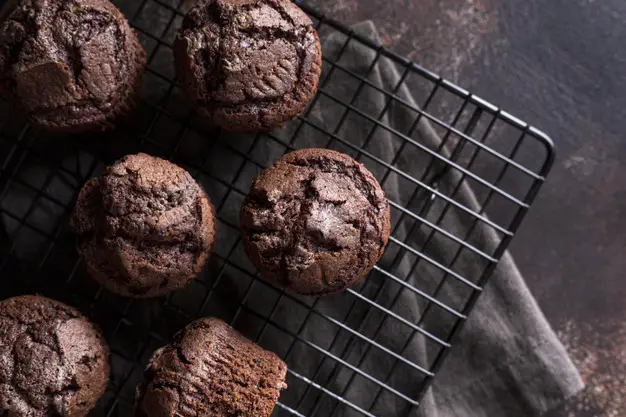 What other substitutes can you use to cool cakes without a cooling rack?
A wire cooling rack is an important part of your kitchenware. It must always be within reach if you want a perfect cake every single time. Most cooling racks are made of metal and should have a non-stick coating. Experienced bakers find them indispensable.
If you are new to baking, you might not always have one handy. In that case, you will need to improvise with items at home. The first thing you can look into are those that you are already using in the kitchen, such as the rack from your oven. If you have an extra baking rack, you can utilize that as well.
Other items that may be lying around in your kitchen are grates from a gas stove. If removable, they can also work as cooling racks. Make sure to clean them with soap and water first before using. If you baked a large cake, you can place it directly onto the grate. 
Other alternatives that may also work are chopsticks, provided you have plenty of them. Bamboo sushi mats can work for smaller cakes, too.
Some baked goods such as pies or brownies may not require removal from the pan for cooling. For these items, you can just take the pan out of the oven and cool on an elevated surface. You can then use cookie cutters as mounts for the pan. 
Can I make my own cooling rack?
If, for some reason, you cannot make do with the substitutes above, you can always make your own cooling rack with nifty do-it-yourself hacks.
You can start by using aluminium foils. Cut up strips of foil and roll them. Make a minimum of five rolls. Place one at every corner of a rectangle and another in the middle to keep your makeshift rack stable. Add more supports if needed or if you are working with larger cakes. 
Overturning egg trays or muffin tins can also turn them into makeshift racks. The lids from a mason jar are also a good alternative, if you have plenty of them.
With these nifty DIY substitutes, you can readily put your cake pans on top to cool the cake.
How do I transfer baked goods to a makeshift cooling rack?
For cakes, cupcakes, or muffins, a knife to loosen them from the pan helps. If the baked tidbits are pies or brownies that don't really need to be removed from the pan for cooling, you can place the pan directly on your makeshift racks.
Is cooling small baked goods the same for larger ones?
When it comes to small cakes, cooling is easier because the surface covered is smaller. All of the methods mentioned above will work for small cakes. Without a rack, cookies can cool from paper towels placed on a countertop as they can readily absorb moisture. Due to their size, cookies can cool without any problem.
The fastest way to cool a large cake without a proper cooling rack is by cutting it. If the cake will be filled with frosting or filling, cutting the cake right away with a serrated knife can hasten its cooling. Going slow with the cutting is vital as cutting the cake too fast may rip the pastry. Once the slices are cut, spread them out in your makeshift racks to cool.
Are there other methods to cooling a cake?
A popular way to cool cake quickly is by putting it in the fridge or the freezer. However, doing this immediately after taking it out of the oven may cause a new set of problems. Drastically changing the temperature of a cake may affect its integrity and texture. It is therefore advisable to let it cool down to room temperature first before putting it in the fridge.
If placing the cake in the fridge or the freezer, do not forget that it must not stay in it longer than it has to. Putting it in way less time may also make the cake unevenly cooled.
If the setting is outdoors, you can try taking the grill off the barbecue. Clean it with warm water and dish soap. If unable to do so, cover the grills with a paper towel so that food residue won't stick to the cake.
Why are cooling racks important?
By now, you must realize how important this seemingly unnecessary equipment is. Almost all recipes you can find online will end up telling you to place freshly-baked cakes on a wire rack to cool. A cooling rack allows air to circulate around the cake to prevent overbaking it. 
Cooling racks are essential to bakers as they provide the best way for food to cool in a fast and efficient manner. In their absence, there are a lot of methods you can do to cool a cake such as using existing oven racks and making DIY racks with a few simple hacks.