Bamboo cutting boards can be stronger, tougher, and even more hygienic than standard wooden cutting boards, which is why they're becoming more popular. But keeping them clean can take a little more work than a wooden board, and need specific techniques. 
So how do you clean a bamboo cutting board? Simple. The easiest way to clean a bamboo cutting board is to wash it down with warm water and soap, without using harsh chemicals, and to let it air dry overnight. 
The best way to clean a bamboo cutting board
1. Wash your cutting board with soap and warm water. 
After each use, you should wash your cutting board with warm water, and normal dish soap. Don't use water that's too hot, as that can damage the board, and also don't submerge your cutting board for more than a few minutes, as the water can soak into the board. 
When washing the board down, avoid rough or abrasive cloths or scouring pads, as these can take the surface off of your board. A soft cloth, or even your hand, should be enough to remove larger food particles.
2. Don't soak your board
As we already mentioned, avoid leaving a bamboo cutting board in water, especially hot water, for long periods of time. This also includes the dishwasher. 
Bamboo cutting boards are more heat sensitive than standard wood, and long term heat exposure can cause them to warp or crack. 
3. Dry the board immediately after it's washed
Once the board has been washed, dry it down with a soft cloth or towel, then leave it to stand so both sides are exposed, and it can air dry. 
Air drying a bamboo cutting board can take several hours. Washing your board and leaving it overnight is recommended.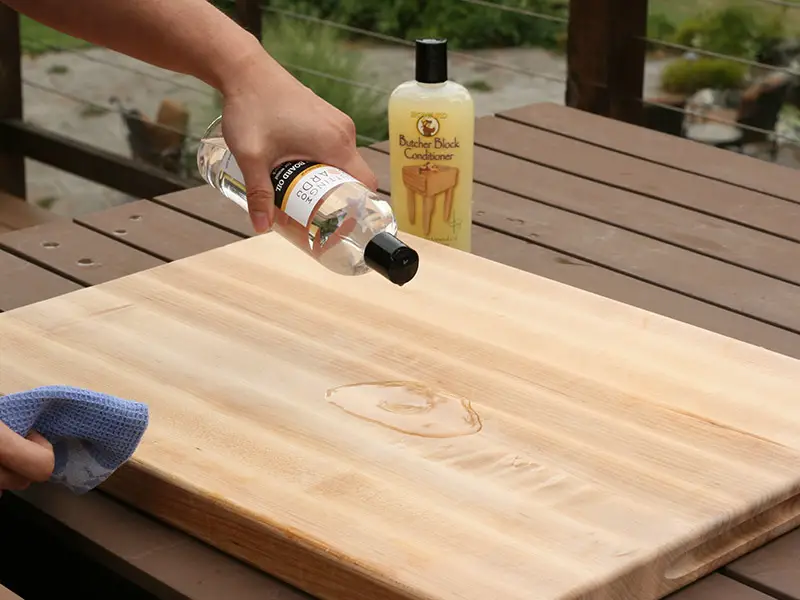 What is the best way to keep your bamboo cutting board as good as new?
Like all kitchen implements, your bamboo cutting board should be regularly maintained to keep it looking and working its best. 
With a cutting board, that means treating and resealing the board with a natural or mineral oil to keep it waterproof and protected. The process of doing this is simple:
Start by heating up your chosen oil on the stove until it's warm. You don't want your oil to be hot, just warm enough to be free flowing and able to spread and soak into the cutting board surface.
Cover all surfaces of the board with the oil. Focus on one side at a time, and don't forget to work oil into all of the edging and corners. 
Using a soft cloth, slowly rub the oil into the board until all sides are covered. If your cutting board has a grain, rub along the direction of the grain. If not, rub in a circular pattern until all the oil has been absorbed. 
Stand your board upright and let it stand for at least an hour, preferably longer. 
Remove any excess oil with a dry, clean cloth, and store your cutting board in a cool, dry place. 
For best results, repeat this oil treatment process once a month. 
What oils can I use to treat my cutting board?
There's a wide list of products that you can use to treat your cutting board, as well as one or two to avoid. 
Products that are safe to use on a bamboo cutting board:
Mineral oil (Liquid paraffin)
Beeswax
Carnauba wax
Fractionated coconut oil
Lemon Juice
Baking soda
Products to avoid using on a bamboo cutting board:
Walnut oil
Vegetable oil
Varnish
Bleach
Cleaning products
Rubbing alcohol
How do you remove stains or smells from a bamboo cutting board?
Bamboo is naturally porous, so over time will stain and absorb the scents of what you cut on it. If your cutting board is getting particularly pungent, then there's an easy way to deal with this and remove any lingering scents, naturally and cheaply!
Start by scattering coarse salt onto the cutting board. The best time to do this is just after the board has been washed and is still damp.

If your board is particularly stained, replace the salt in this step with baking soda.
Cut a lemon in half, and using half of the lemon, scrub the board until all of the salt is gone. Lemon juice is an anti-bacterial and will naturally clean the board and kill anything harmful. 
Apply a second layer of salt, then leave the board for several hours. If possible, leave the board overnight to soak. 
Scrape the salt free from the board with a flat tool like a spatula, then wipe down the board with a damp cloth. 
Your bamboo cutting board should now be clean and fresh, and good as new!
How long does a bamboo cutting board take to dry?
Because bamboo is porous and absorbent, it holds a lot of the water used when cleaning it down, and can take several hours to dry. 
The best way to dry your cutting board is to use a fresh, clean cloth to wipe it down, then stand it on one end so most of it is exposed to the air, and leave it overnight to air dry. 
Can I use cleaning products on my bamboo cutting board?
In general, avoid using cleaning products, bleach or anything that's not natural and edible on your cutting board. 
Bamboo cutting boards are porous, and may absorb chemicals from anything used to clean it. The last thing you want is bleach or other toxic chemicals leeching into your cutting board, and potentially ending up in any prepared food. 
Are bamboo cutting boards safe for dishwashers?
Generally, no. Most cutting boards, whether bamboo, other wood, or even just plastic, aren't dishwasher safe. 
The extreme heat and long term water exposure of a dishwasher can warp and damage cutting boards, so always wash your cutting board by hand. 
How long does a bamboo cutting board usually last?
Bamboo is actually 19 percent harder than the traditional maple wood that cutting boards are generally made out of, so when it's looked after correctly, will last a lot longer than a traditional board. 
It's also worth pointing out that bamboo is also slightly harder on your knives, because it's tougher than other types of wood. So be careful when using expensive knives and other tools on a bamboo cutting board. 
Are bamboo cutting boards toxic?
No. In fact it's absolutely the opposite. Bamboo is naturally an anti-microbial, so  a cutting board made from bamboo can actually be much cleaner than other types of cutting board. 
As we've already pointed out, though, bamboo is naturally absorbent, so avoid using toxic chemicals to clean them, as they can leech into the material.