There are two considerations when it comes to the picking wine for fondue. Firstly, what is the best wine to put in the fondue? Secondly, what is the right wine to drink with it?
Wine is added to the cheese to counteract its fattiness. The natural tartaric acid it contains prevents the cheese from separating and stabilizes the mixture.
A wine that accompanies a fondue needs to be light and crisp, to help digest the cheese.
Best Wines to Cook in a Fondue
Many recipes for fondue recommend a crisp, dry white wine for cooking with the cheese. The theory being, the drier the wine, the more tartaric acid it will contain.
Cheese fondue originates from Switzerland. However, buying Swiss wine is not always an easy task in every country and these wines tend to be a bit more expensive than others. If you can find one and want to be decadent, you'd be better to drink it than put it in the fondue.
In reality, any dry white wine will suffice to pop in with your cheese. You could choose a light Pinot Grigio from Italy, or anywhere else in the world.
Try a dry Sauvignon Blanc from France, New Zealand, South Africa, Chile or right here in the USA. A very dry Muscadet would also cut through the fat of the cheese.
In our expert opinion, quality is not such an issue when putting wine in a fondue, so save the good stuff for drinking and use a cheaper wine for cooking. Let's have a look at some of those wines now.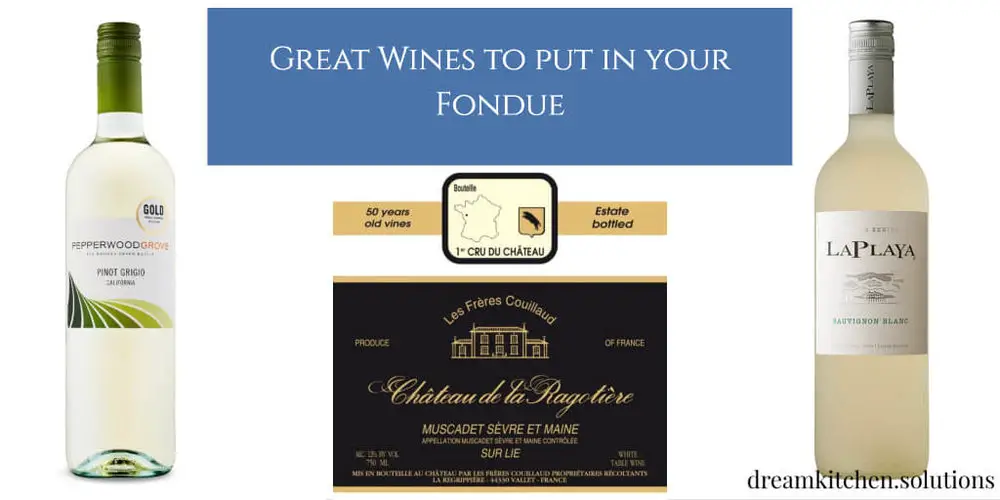 Pepperwood Grove Pinot Grigio
https://www.wine.com/product/pepperwood-grove-pinot-grigio/126227
Pepperwood Grove has been producing wines for the last 20 years. It sources fruit from the best growing regions in the world and turns them into popular wines. This inexpensive Pinot Grigio is made in the Italian style.
The wine has mineral-driven aromas of green tea and lemon and is also acidic—making it perfect for cooking fondue. Crisp, dry and refreshing, this everyday wine pairs well with cheese and seafood. This means you can sit back and sip the leftovers you don't use in the fondue.
La Playa Estate Sauvignon Blanc
https://www.wine.com/product/la-playa-estate-sauvignon-blanc-2017/352362
This dry, pale gold wine is produced in the Colchagua Valley in Chile. The La Playa Estate grows premium grapes on 597 acres and produces a selection of wines.
The Sauvignon Blanc has hints of pineapple, lemon, and lavender. It is well-balanced with a clean, mineral finish. Its high level of acidity is good for stabilizing your fondue and cutting through the cheese.
Château de la Ragotière Muscadet Sur Lie Black Label
https://www.wine.com/product/chateau-de-la-ragotiere-muscadet-sur-lie-black-label-2016/366852
Château de la Ragotière is located in the Loire Valley in Brittany, France. This Muscadet is made from grapes harvested from vines that have been around for approximately 60 years.
This crisp and refreshing white wine has notes of citrus and is intensely acidic. Voted one of the top 100 wines in 2017 by Wine Enthusiast, it is as good for drinking as it is in your fondue.
Best Wines to Accompany Fondue
To help digest fondue, tradition suggests drinking white wine, kirsch or herbal tea. These help prevent the cheese from sitting heavily in your stomach (and help you get a good night's sleep!).
We have already mentioned Swiss wines. These include Chasselas, Rousette or Chignin, which—although perfect for fondue—are hard to find.
Good alternatives are dry white wines, such as Chablis, Muscadet or Alsace. An Austrian Riesling or Gruner Veltliner will also pair well.
If your preference is for red wine, make sure it's light-bodied and fresh. You could try a Gamay or a Jura Poulsard. Let's look at a few of the best wines to accompany your fondue.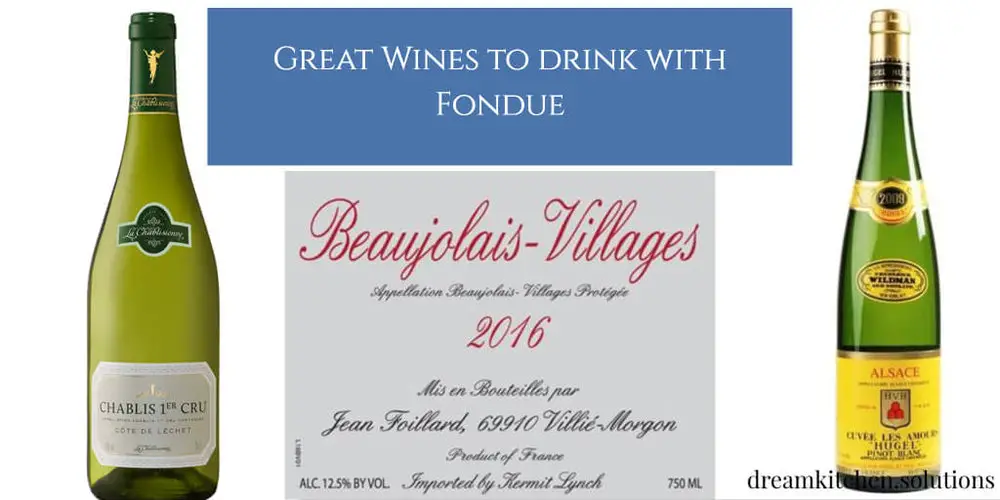 La Chablisienne Chablis Premier Cru Côte de Léchet
https://www.wine.com/product/la-chablisienne-chablis-premier-cru-cote-de-lechet-2014/342164
This superior-grade wine is popular with both wine connoisseurs and general consumers. It is produced from grapes grown in the Chablis region in the heart of France, south of Paris.
The wine is crisp and dry with lemony, acidic tones—well-balanced with hints of ginger.
Hugel Pinot Blanc Cuvee Les Amours
https://www.wine.com/product/hugel-pinot-blanc-cuvee-les-amours-2014/161135
The Alsace region of France is home to the Hugel winery—a family-run business dating back to the 1500s. It houses the oldest cask in the world which is still in use today. Called the Sainte Caterine, it was built in 1715 at the end of the reign of Louis XIV.
This Pinot Blanc is crisp, dry and light, with aromas of pear. It has undertones of fresh lemon and is similar in style to a Chablis or unoaked Chardonnay.
Domaine Jean Foillard Beaujolais-Villages
https://www.wine.com/product/domaine-jean-foillard-beaujolais-villages-2016/420292
Originating from the Beaujolais region of France, this wine is produced with the Gamay variety of grape. This classy and delicious red wine hits the palate with flavors of bitter cherry and raspberry.
A light option which can be served slightly chilled, it has aromas of lavender and red fruit. For those of you who prefer a red wine, this Gamay will perfectly accompany your fondue.
Summary
Wine is a perfect partner for fondue. This applies whether using it to cut through the cheese in cooking, or drinking it as part of the social experience.
We have chosen some examples of the many wines available to include with your cheese, or to sip on as you enjoy it. We have focused on affordable options. However, if you fancy being more decadent, the sky really is the limit when it comes to wines.
Your preference could be for a dry, crisp white or a light red. Either way, as tradition dictates, they will enhance any fondue gathering.
Prepare your cheese with a cheaper dry white, then sit back and enjoy your choice of our best wines for a perfect fondue feast.