In a Hurry? Quick Look at our Top Picks:
Stainless steel popcorn makers are classic, and they have been used for years to get great tasting, fresh popcorn.
They typically leave very few popcorn kernels unpopped when you use them, and they're better than microwave popcorn packets. These packets are usually packed with preservatives and chemicals, and they have an oily or gritty taste due to the high synthetic butter content.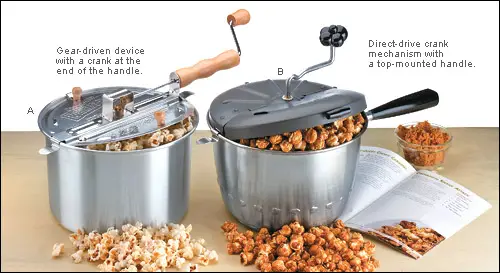 Before microwaves came out and got popular, people made their popcorn on the stove in stainless steel popcorn makers. You get the freedom to choose exactly what goes into your popcorn, and you know exactly how fresh your popcorn is.
But there are dozens of stainless steel popcorn makers available today, and you want to choose the best one available to suit your needs. We've chosen the top two, and we'll give you in-depth reviews so you can decide which one works for your needs.
First, what should you look for in one of these products?
Best Stainless Steel Popcorn Makers

Whirley Pop Stainless Steel Stovetop Popcorn Popper
Wabash Valley Farm's Whirley Pop is a large-capacity popcorn machine. You get up to six quarts of popcorn with each use, and it pops the popcorn very quickly. You can get fresh, hot popcorn in under three minutes.
It also comes with a patented stirring system to ensure that your popcorn doesn't burn while you pop it, and it keeps the popcorn from sticking to the bottom of the pot. Not only does this help you make excellent popcorn, but it also makes cleanup easier.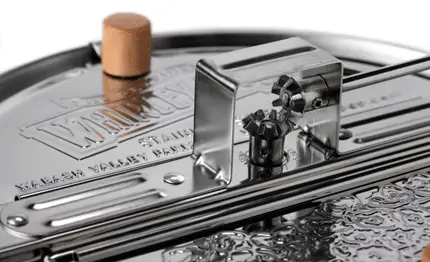 This popcorn popper comes with a heavy-duty removable lid with durable metal gears. It lets you quickly wipe out the popcorn maker and store it for later use. The handle features a safe and durable wooden design that won't heat up as you use it.
You also get an included real theater popcorn kit with premium popcorn kernels, high-quality popping oil, and buttery salt seasoning. 
Specifications
Body Material – Stainless Steel
Capacity – 24 Cups (6 Quarts)
Dimensions – 18 by 10 by 7 Inches
Handle Material – Wooden
Weight – 4.36 Pounds
Things We Liked
Popcorn popper has a heavy-duty stainless steel design.
It has a large six quart capacity.
Things We Didn't Like
The clamps that attach the lid to the base are flimsy.
The bottom of the popper is on the thin side.

Great Northern Popcorn Original Stainless Steel Stove Top Popper
Great Northern Popcorn Company's popcorn popper is large, and you get up to five quarts of popcorn with a single use. The lid contains vents for moisture release, and it also features an easy-pour design.
The stir paddle is made out of stainless steel as is the popper's body for added durability. It ensures that your popcorn cooks evenly due to the duplex heat pad on the bottom of this popper.
This popper's gears are also made out of stainless steel, and this helps to ensure the product's longevity. 
The safety handle is made out of a thick wood, and it won't heat up as you use it. Also, the easy pour handles are made out of wood, and they are heat-resistant as well.
Cleanup is easy with this product as you just wipe it out with a paper towel or a cloth and store it away until you use it again. You'll get crunchy and hot popcorn each time you use it, and it cooks in four minutes. 
Specifications
Body Material – Stainless Steel
Capacity – 20 Cups (5 Quarts)
Dimensions – 10 by 17 by 8 Inches
Handle Material – Wooden
Weight – 2 Pounds
Things We Liked
This model contains lid vents to let moisture escape.
The handle and pour handles are heat-resistant wood.
Things We Didn't Like
It doesn't work on induction top stoves.
The stirrer may not work seamlessly.
Stainless Steel Popcorn Maker Buying Guide

Build Material
You can purchase stovetop popcorn machines in stainless steel, nylon, or aluminum. If it's possible, you want to choose a popper that is made out of stainless steel. There have been concerns about the chemical makeup of aluminum poppers, and nylon may not last as long. Stainless steel is durable and versatile.
Capacity
You want to ensure that your popcorn popper is large enough to make the amount of popcorn you want! Obviously, the larger your popcorn machine is, the more popcorn you can make at one time.
A good size to look for is between a five and six-quart popcorn maker as this can make more than enough popcorn to feed a family in one go. 
Pop Time
Many stainless steel popcorn machines have a short average popping time. You don't want to wait for your popcorn to pop for more than a few minutes. On average, you want a popcorn maker that will pop between two and five minutes each time you use it. 
Stirring Mechanism
Your popcorn popper should have a stirring mechanism in the bottom of the pot to prevent your popcorn from burning and minimize the number of unpopped kernels that are left in the pot. This stirring mechanism should also be made out of a durable material like stainless steel, so it lasts as long as the popper does.
Conclusion
Both of these popcorn makers have their benefits and their drawbacks. It's up to you to decide which one suits your needs the best and which one isn't a good match.
If you choose either of these that we've recommended you'll find it is a good investment, and a cool way to get healthy, hot, and fresh popcorn for years to come. You'll find the brand of popcorn you choose plays a big role in the final taste test.