It's that time of year again: the season of pumpkin-spiced everything, of doorsteps crowded with carved terror. And of perfectly good vegetables left to rot once the night of mischief and playful fear is over.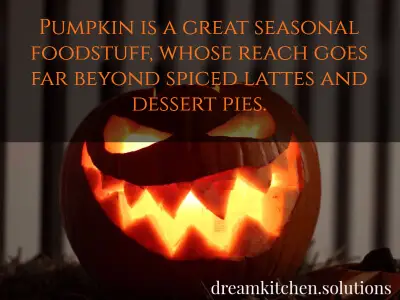 But it doesn't have to be this way. Pumpkin is a great seasonal foodstuff, whose reach goes far beyond spiced lattes and dessert pies. (Although both of those things definitely get my vote!)
These two recipes, each with vegan variations, show how pumpkin can hold its own as a seasonal main course, and become something for everyone – even if you don't have a sweet tooth.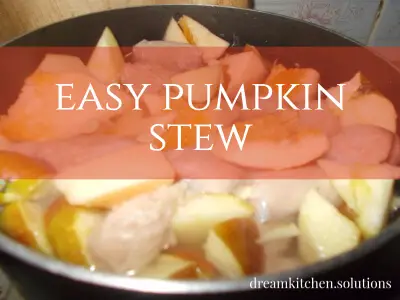 #1 – Pumpkin Stew
This is a cheap, filling, and tasty main course, which is substantial enough to be served on its own.
Ingredients: (serves 4)
1 small pumpkin
2 apples (go for the sweeter varieties of eating apples, rather than cooking apples: I used Gala apples)
Handful of chestnut mushrooms
8 sausages (vegetarian/vegan substitutes: sweet potato, kidney beans, chestnuts – any or all of these can also be added to a meat-based stew if desired)
Tablespoon of dried cinnamon
Directions:
Fill a large saucepan with cold water
Cut away each side of the pumpkin (just as though you're cutting an apple – a simple, downward stroke, with a sharp knife, as close to the centre as possible
Slice the paler flesh away from the bright orange rind, and chop into rough, large cubes
Chop the mushrooms into quarters
Slice and roughly chop the apples
Cut each of the sausages (uncooked) into four
In a vegetarian/vegan dish, peel and halve the chestnuts, and roughly chop the sweet potato – the skin can be left on if desired.  Drain the kidney beans.
Place everything into the saucepan of water, and place on the stove at maximum temperature. Use a lid on your saucepan.
Stir regularly
When the scent of the apples begins to come through, add in the cinnamon, reduce the heat, and simmer for a further ten minutes. Serve immediately.
Suitable Drinks to Accompany:
Mulled wine
Coffee with hazlenut syrup
Warmed apple and blackcurrant juice
Real ale
#2 – Pumpkin Kebabs
Ingredients (Meat version, makes 4 kebabs)
2 pork steaks
1 small pumpkin
1 apple
1/3 block of blue cheese
(Vegan version, makes 4 kebabs)
1 small pumpkin
2 apples
2 pears
1 green bell pepper
Tbspn of oil per kebab
Cinnamon
In each case, slice the pumpkin on all sides, slice the paler flesh away from the skin, and chop into large, rough cubes.  Slice and chop the apple/s likewise.  If making the meat variant, roughly chop the pork steaks into good-sized cubes.  If making vegan kebabs, slice and chop the pears and bell pepper into cubes.
Layer the cubed ingredients along a kebab skewer, making sure to leave 2 inches at the end to hold your kebab once cooked.
For vegan kebabs, drizzle each kebab with oil, then sprinkle with cinnamon, and place in the oven, at 180 degrees for 15minutes.  Allow to cool, remove, and enjoy.
For meat kebabs, place in the oven at 180 degrees for 20 minutes.  Break up the blue cheese over each kebab, and return to the oven for a further 5 mins.  Allow to cool, remove, and enjoy.
Suitable Drinks to Accompany:
Cider
Elderflower cordial
Mango juice
Light lager
Pumpkin Seeds – Keep Growing!
When you're preparing a pumpkin-based dish, don't forget to set aside the pumpkin seeds. You can either plant these, and hopefully produce your own pumpkins late next year, or you can simply allow them to dry out, and enjoy as a healthy snack.
Pumpkin seeds also taste good lightly toasted in oil, and added to winter salads.
Health Benefits of Pumpkin and Pumpkin Seeds:
Both pumpkins and pumpkin seeds have a lot of health benefits, so you can add "looking forward to Hallowe'en" as a legitimate part of your health and fitness regime!
Besides being low in calories and high in fibre, meaning that a relatively small amount will keep you feeling fuller for longer, both pumpkin flesh and pumpkin seeds have high levels of Vitamin A and Beta-Carotene, both of which contribute to the health of your eyes, and can help improve night vision.
Pumpkin flesh contains compounds which can help boost serotonin. Serotonin helps promote healthy sleep patterns and, more famously, boosts your brain's feel-good factor, so you'll look and feel full of life.
For men, pumpkin seeds contain a little under a 5th of the recommended intake of zinc, which helps promote good reproductive and sexual health. A higher zinc intake is also associated with the body being better able to regulate testosterone production, leading both to a reduced risk of prostate cancer, and to lower levels of stress and aggression.
Why Not Try…
Pumpkin Spread on Bagels?
Mash down the flesh of a pumpkin until it forms a smooth paste, cut open a bagel, spread the pumpkin paste on each half, sprinkle with pumpkin seeds, and pop under the grill until lightly toasted.
Pumpkin Seed Candy Apples?
A quick and simple version of the popular toffee apple: secure your apple on a suitable, strong lollipop stick or skewer, coat thickly and evenly with chocolate spread, sprinkle with pumpkin seeds, and drizzle with honey. Place in the freezer until the honey is set, remove, and enjoy.
Prawn and Ginger Stuffed Pumpkin?
Cut a small pumpkin in half, and scoop out the seeds and surrounding flesh (remember to keep the seeds to enjoy dried, toasted, or as sprinkles.) Place a couple of handfuls of frozen prawns into the hollowed-out pumpkin halves, and chop a cube of ginger over each filled half. Mix up the prawns and ginger, and place in the oven at 180 for about 20-25minutes, until the prawns are just cooked through.