In a Hurry ? Quick Look at our Top Picks:
Going out for breakfast is a fast-growing trend, but, for many people, being ready to leave home for breakfast is a struggle, if not downright impossible.Since breakfast isn't going to be moving to later in the day anytime soon, what you need is a waffle maker, giving you the option to enjoy your favorite breakfast, with syrup, bacon, fruit, or simply sugared, at your favorite table – the one in your own home.
With a waffle maker, you can have breakfast-bar taste in your bathrobe and slippers, with no one to raise eyebrows at your bed hair, and no need to struggle for a smile before you've had your second cup of coffee.
If you're not really a breakfast person, a waffle maker is ideal if you have children, or regular overnight guests – a single, simple investment that instantly makes you flavor of the month.

Best Waffle Maker of 2021

Presto 03510 Flipside
The Presto 03510 Flipside automatically flips the batter mix, to ensure even spread and cooking of a large, fluffy waffle, which is easily separated into four individual sections – ideal for family breakfasts, as everyone's waffle will be ready at the same time! It also rotates whilst cooking, to ensure even cooking and taste.
The Presto can be messy, and is hard to clean, as the fry pan is not removable.

Hamilton Beach (26030)
The Hamilton Beach (26030) offers a removable, dishwasher-safe fry pan, cool touch handles, and is presented in stylish brushed stainless steel. It also folds flat for easy storage, meaning it won't take up a lot of cupboard space if you don't need to have it out all the time.
However, cooking appears to be somewhat inconsistent with the 26030, and, as the unit itself isn't dishwasher safe, it can be difficult to clean up batter that gets into the hinges and grooves of the unit.

Waring WMK600 Double Belgian Waffle Maker
Although it has a short power cord, which can make it awkward, and limits where it can be placed, the Waring WMK600 redeems itself by offering a rotating function, and the ability to cook two waffles at once, making it the ideal waffle maker for couples who want to enjoy a tasty breakfast together at home.

Oster CKSTWF2000 Belgian Waffle Maker, Stainless Steel
The Oster CKSTWF 2000 is good for beginners, as it has integral temperature control, but, being very small for a waffle maker, is probably best suited to someone living on their own, rather than a family.

Proctor Silex Belgian Waffle Maker (26070)
Finally, the Proctor Silex 26070 provides deep grooves, ensuring light, fluffy waffles, in a space-saving, easy clean design.
Batter mix does seem to stick more readily to the Proctor than to other waffle makers, and people have commented that it could do with a timer, but, if you're happy to clean up, and have the time to keep an eye to your waffles as they cook, it's a good basic waffle maker.

Final Thoughts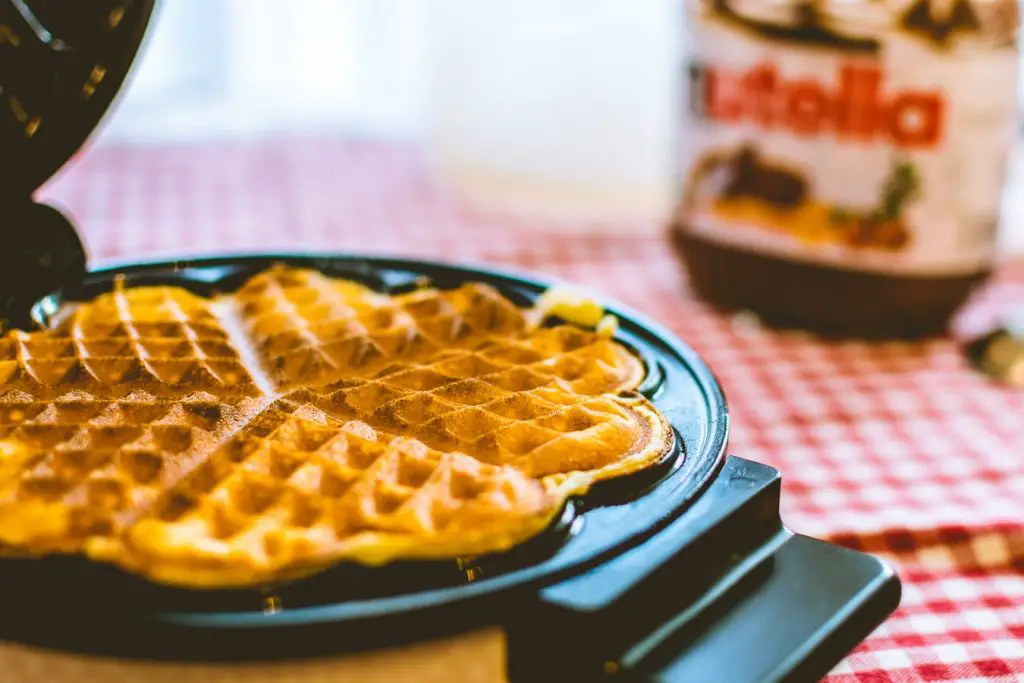 Waffles offer a truly versatile breakfast experience, as they can be served in a range of ways – from simply sprinkled with sugar, to being draped with bacon and sausage links for a truly sumptuous start to your day.
For a healthier option, you can serve your waffles with yogurt, or fresh fruit – there really is something for everyone in the waffle world, and absolutely no excuse not to buy a waffle maker!
Many people have commented that they were reluctant to purchase a waffle maker as they remember the "heavy, awkward waffle irons" their parents had – but, fortunately, modern design is all about attractive, easy to use appliances that don't take up a lot of space, and this extends to the contemporary waffle maker. So, there's no excuse not to make a delicious, indulgent breakfast!
If you live in a rural area, at a distance from a good waffle house, or are simply not a morning person, there's now no need to feel left out – read through the reviews again, buy your waffle maker, and away you go! You could even invite some friends over, and leapfrog into the position of your social group's most popular person!