In a Hurry? Quick Look at our Top Picks:
In the big, bad world of delicious meats, the entry-level option for the lazy is to stop by your local grocery store on the way home from the office and grab a rotisserie chicken. So many do-it-yourself recipes for "homemade" chicken salad start with "grab a rotisserie chicken from the store".
Is that homemade if 75 percent of the contents of your recipe are precooked in bulk behind a deli counter? That's right, I disagree as well.
There exists a world of possibilities to obtain your own smaller version of the conveyor belt style rotisserie oven you walk past at the grocery store.
You can use your own machine to make your own customized creations that not only taste better, but are also better for your body, and can also be made in a wide variety of flavors and options. The possibilities are absolutely endless!
Best Rotisserie Oven

Ronco ST5000PLGEN Showtime Rotisserie Platinum Edition
Ronco is already a household name when it comes to producing and manufacturing best in class kitchen equipment and small appliances. It's hardly a surprise to see them dominating this list.
The ST5000PLGEN Showtime Rotisserie oven is another installment in a long line of quality household utilities. Elegant design and amazing utility are what this machine promises to offer, and we can assure you this is a promise kept.
The oven is specially designed to operate at a precise rotation speed, allowing your rotisserie dish to cook evenly and perfectly, a feature no consumer should overlook when selecting a rotisserie oven.
Its removable heat shield ensures your meat is browned to absolute perfection, not undercooked, and not burnt either. The glass door remains transparent, allowing you the opportunity of observing what is going on inside on a real-time basis.
The patented non-stick cooking surface minimizes the need for oil and butter while cooking. This assists in helping you eat healthier options with your meats instead of the usual fried chicken garbage. Also, the non-stick surface makes clean up a breeze. Just wipe the inside of the oven down with a damp cloth once its cooled to the touch.
The glass doors of the Ronco ST5000PLGEN are also surprisingly removable and dishwasher safe, so any splatters that do occur won't leave unsightly streaks for years to come.
Finally, we all love saving money. This affordable rotisserie oven is energy-start certified. The ST5000PLGEN Showtime Rotisserie (Platinum Edition) consumes less than one-third of the energy consumed by conventional ovens. That's a win win win right there.

Ronco EZ Store Rotisserie
This is another high-quality rotisserie oven from Ronco. The EZ Store Rotisserie is equipped with a digital timer that makes it very easy to accurately time your food cooking. The oven automatically turns off when the set time is exhausted, ensuring that your food is never undercooked, and conversely never gets burnt.
Its precise rotation speed serves to efficiently circulate heat around the food, providing the perfect, even heating that should be expected from a Ronco rotisserie oven.
Excess fat that is present in your turkey, chicken or pork has the chance to drip into the extra-large capacity drip tray below. The tray is removable and dishwasher safe.
The spit rotisserie assembly is non-stick, minimizing the need for butter or oil while cooking (as stated, this assists in helping you eat healthier options with your meats instead of the usual fried chicken garbage), while still making the spit components a snap to wash.
The transparent glass door facilitates the monitoring of your cooking, just in case the food is finished before the timer, or if you don't want to use the timer like some kind of free spirit.
Purchasing this oven means you also get all the accessories that come with it. A basket, rotisserie spit, carving platform, removable drip tray, oven gloves, food ties, just name it, it comes included. No "additional accessories and upgrades not included" crap. This is the whole kit and caboodle.
The compact design means that space is no longer a barrier to entry for enjoying your perfect, home-cooked rotisserie dish. The 17.75-inch Ronco EZ Store Rotisserie oven fits seamlessly on even the smallest of spaces on your countertop.
It's a perfect option for apartment dwellers or those with small studios. In case you want to be able put the rotisserie away after use, the miniature frame is also of benefit, as it can fit into standard cabinets. This oven didn't get the name "EZ Store" for nothing!

NutriChef Countertop Vertical Rotating Oven
For hassle-free cooking of rotisserie meals, the NutriChef Countertop Vertical Rotating Oven is never a bad decision. This oven is suitable for all kinds of foods, kebabs, rotisseries, shawarma, vegetables and just about anything you can think of spin-cooking to perfection.
Its unique vertical build ensures that it takes up less countertop space while simultaneously providing the level of power expected from NutriChef machinery.
The transparent round glass dome top gives you a clear view of what you are cooking, and the vertical display provides access to a greater surface area.
The tempered glass door and heat-resistant handle gives you the opportunity to open the NutriChef Countertop Vertical Rotating Oven anytime you wish like some kind of heathen who loves to let the heat and steam out of the oven. This ensures you have no excuse for churning out a less than perfect meal from this oven.
The oven is energy efficient and time-saving, taking very little time to reach high temperatures, while consuming much less energy than a conventional oven. The maximum temperature is an impressive 475°F, and the automated timer can be set up to 60 minutes, more than enough time to cook anything at that heat to a crisp.
You will be hard-pressed to find an oven easier to clean than this masterpiece from NutriChef. The stain resistant housing needs nothing more than a soft wipe from a damp cloth, and it is as though it had never been used.
The oven also comes with a kebab rack with seven skewers. A drip tray is also present to collect dripping fat, facilitating mess-free cooking.

Why Should You Use a Rotisserie Oven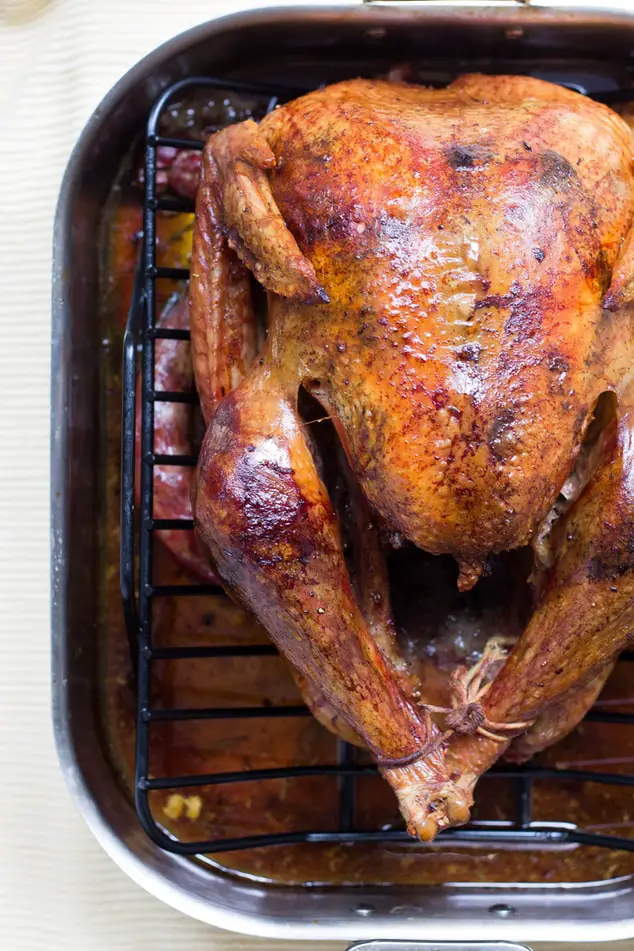 Whenever most people think about baking chicken, or cooking many other types of meats, they immediately assume one of three things:
"Great, out comes the frying pan to make a mess of oil and fat splatters everywhere"
"They are going to heat this house up to ridiculous temperatures with that oven"
"Can't wait to have to scrape off the burnt remains from my grill grate and replace the propane tank before next time I have to use the grill"
This couldn't be further from accurate if you decide to purchase your own in-home countertop style rotisserie oven. In fact, some of the best results while cooking come from the slow rolled, even baking process of a rotisserie oven.
Rotisserie ovens are ideal, as their size makes it to where the oven can easily sit on your countertop, and be stored away in a cabinet or closet when not in use, freeing up space for other small appliances or additional food prep surfaces.
If you live in warmer climates, you are very well conditioned to the inferno that ensues whenever you crank your oven up to preheat, and then watch as the inside of your home turns into the surface of the sun. Rotisserie ovens solve this predicament by retaining the heat to a far smaller area, set up to a large appliance like a home oven.
Additionally, mess is restricted to only the constraints of the rotisserie oven itself, versus dealing with splatters from a pan left uncovered through the cooking process. If you've ever cooked bacon on a glass cooktop, you know exactly what I'm talking about.
Furthermore, rotisserie ovens save on your electric bill by not having an energy-hogging full size oven sucking power. Instead you have a compact cooking device similar to a toaster oven for use at your disposal, and can be unplugged from power completely when cooking is finished and the unit has cooled down.
Finally, Rotisserie ovens provide the most even final cooking results possible. Due to its spinning nature, the meat quality is top-notch, moist, and perfectly cooked from all angles. The meat literally and effectively floats on the spikes as it spins over the heat, and then eventually floats right into your mouth as one of the most delicious good experiences you will ever have in terms of consumption of meat.
The feel of chomping into your first bite of rotisserie chicken that you've made yourself at home versus grabbing an older, not-so-fresh-feeling one from your local grocery store will blow your mind. The taste of a slowly-rotisserie cooked pork will change the way you look at roasting forever.