In a Hurry ? Quick Look at our Top Picks:
Okay, so our puns are bad – but the rice cookers we've reviewed for you definitely aren't!
One of the constant frustrations of cooking rice on the stove, especially when you're cooking a large quantity, is that it can be difficult to get all of the rice cooked to the same consistency, especially if you don't have the time or the inclination to stand over the stove, constantly stirring. The usual scenario is that half the rice is burned, and the other half is barely cooked.
With a rice cooker, consistently cooked rice, even in large quantities, isn't an issue. A rice cooker also means that you can prepare healthy, enjoyable rice dishes that will be ready when you get home from work, as long as you make sure to purchase a rice cooker that has an effective warming function to hold your rice at temperature once it's cooked.
Have a look at our reviews, and see which rice cooker is best for you.
Best Rice Cooker

Aroma Housewares 20 Cup Cooked Digital Rice Cooker
Aroma Housewares offer a rice cooker than can produce up to 20 cups of cooked rice (for roughly 10 cups dried rice), and that features a delay timer, meaning you can set it to come on when you need it, giving you peace of mind that it's not likely to overheat, and also saving your electric bill, and a keep warm function, meaning having a warm, nourishing rice dish on hand when you walk in the door after a long day at work is now a feasible option.
The inner pot of the rice cooker can be removed, which makes cleaning easier, and a full range of necessary accessories are included.
However, the lid and inner valve do need regular cleaning, and are somewhat difficult to get to for cleaning, as neither can be removed; it has also been noted that this rice cooker is not the best for brown rice, although it does just fine with white rice.

Hamilton Beach Rice & Hot Cereal Cooker
The Hamilton Beach Digital Simplicity can produce up to 14 cups of cooked rice, and can also be used to make hot cereal, thus taking care of your breakfast, lunch, and dinner needs in one handy piece of equipment!
It features a heat and simmer function, meaning that perfectly-cooked rice is literally available at the touch of a button, and it comes complete with a steaming tray, and a removable, dishwasher safe inner pot.
However, as the lid doesn't seem to fit fully flush, this rice cooker can be a little messy to use.

Zojirushi NS-LAC05XT Micom
The Zojirushi NS-LAC05XT Micom is presented in stylish black and stainless steel, making it the perfect addition to the contemporary kitchen, especially so since it is designed to be as space saving as possible, right down to the retractable power cord, meaning you don't have to put up with cables all over your kitchen counter.
The Zojirushi can handle white, brown, and sushi rice, as well as porridge and oatmeal, and features a handy quick-cook function, ideal for reheating rice dishes safely.
Some people have commented that the instructions seem unclear, and the Teflon coating of the inner pot does appear to flake over time, although that will also happen with Teflon coated pans, too, so is less an issue with the rice cooker itself.

Tiger JAJ-A55U PP 3-Cup (Uncooked) Micom Rice Cooker
To finish up, we have two offerings from Tiger. The JAJ-A55U-PP comes in a bright, funky pink, which, while clearly not to everyone's taste, would add a touch of fun to a girly kitchen, for example in shared college housing, or in an office setting.
The JAJ-A55U-PP can prepare two dishes at the same time, and offers eight computerized cooking options, whilst also being easy to clean.
The only drawbacks are that it takes a long time to cook rice, and doesn't have any way of easily carrying it about – there's no carry handle, for example.

Tiger JBV-A18U-W 10-Cup (Uncooked) Micom Rice Cooker
Finally, the JBV-A18U-W is easy to clean, and, like the JAJ-A55U-PP, can cook two dishes at once.
The JBV-A18U-W also includes a recipe book, although people have commented that, if you live in a remote, rural area, it doesn't really help that "all ingredients are readily available at your local Asian grocery store" – which may be several hours' drive away!
Some people have also found the JBV-A18U-W messy when making porridge or oatmeal, although these are messy dishes, so may well not be an issue with the rice cooker as such, but simply a fact of the recipe.
Why Rice?
When you have the ability to prepare well-cooked, tasty rice, even when you're out for most of the day, you have the option of a wide variety of healthy, filling meals that can easily be ready for you more or less as soon as you step through the door – you just need to serve up, and switch off the machine.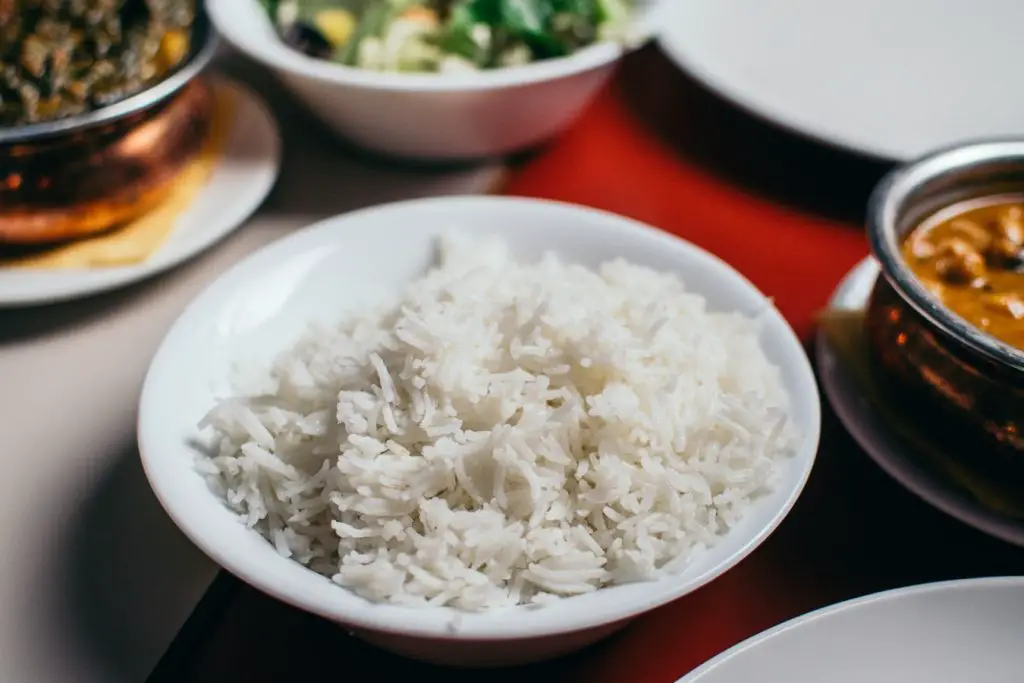 If you have a large family, or regular have lots of people round for dinner, a rice cooker is pretty much indispensable, enabling you to do a large quantity of rice all at once, and know that all the rice will be properly cooked, warm, and palatable.
Rice is a healthy carbohydrate option, more filling, and better for gradual energy release – which avoids the periodic slumps that set off sugar cravings – than fries, with brown rice being especially good on the gradual energy release front.
It can be served with vegetables, meat, or even fruit, and comes in a range of varieties, from the standard long grain white or brown rice, through sushi and risotto rice, meaning that, with rice as a base staple, and a good quality rice cooker, you can easily prepare a week or a month of meals, with a lot of variety, and little thought.
So, whether your thing is chili con carne, vegetable korma, sushi, or a light, fruity cous cous, the rice cooker will soon become your go-to kitchen appliance, and you'll wonder how you ever managed without one. If you have a large family, or work long hours, a rice cooker truly is indispensable if you want to ensure that healthy, filling meals are as easy to make as possible.