In a Hurry ? Quick Look at our Top Picks:
There are few things more satisfying than watching the deli slicer prepare wafer-thin slices of your favorite meats, or picking up thick, chunky slabs to make jerky snacks.
Now, with a home kitchen meat slicer, you can experience that satisfaction and slice variety in the comfort of your own home, and know exactly what you're putting into your sandwiches, or onto your pizza.
Whilst it is important to be aware that none of the meat slicers we've reviewed here claim to be professional, deli-counter-standard machines, some do come fairly close – so, read the reviews, and find the meat slicer that's right for you!

Best Meat Slicer

Chef'sChoice 6150000 Food Slicer
Chef's Choice 615 offers variable-thickness slicing in an easy-clean aluminum and stainless steel design, which includes a serving tray to carry the finished product through to your dinner table.
It is worth noting that this is a large machine, and can run somewhat slower than expected; it can also struggle to slice thinly and cleanly on the lowest setting, although using frozen meat does seem to help somewhat with this issue.

KWS Premium 320w
The KWS Premium is easy to use, with a stainless steel blade, and including an additional belt and whetstone, to prolong the life of your machine. It also features skid-proof rubber feet for added safety and peace of mind.
It offers a Teflon-coated, non-stick blade, and is FDA approved.
The KWS does, however, take some time to clean, and the blade needs to be removed for a thorough clean, something that not everyone will be comfortable with.

EdgeCraft 610 Chef's Choice
The Edgecraft 610, which features a multi-purpose blade, suitable for slicing more than just meat, is ideal for basic home use, although it does run slowly, and is not suitable for very fine slicing – for those who like their meat thick, however, the Edgecraft is a more than suitable starting point in the meat slicer arena.

Westmark Germany Multipurpose Stainless Steel
Manufactured in Germany, the Westmark is a simple, basic, compact meat slicer, ideal for those who occasionally want deli-sliced meat at home, and who are looking to save space.
The Westmark offers a stainless steel blade, with adjustable thickness cutting, although several people have commented that it is better for slicing cheese than meat, as it can struggle to produce a neat edge on meat, particularly, as is common with home kitchen meat slicers, at the very finest slicing setting.

Kalorik Professional Style Food Slicer, Silver
Finally, although people have noted problems sourcing replacement blades, the Kalorik Professional Style Food Slicer can be fully disassembled for easy cleaning, and offers a quick-release food carriage bar, and a powerful AC motor.
It comes in a silver metallic finish that looks clean and elegant.
What Would I Want A Slicer For?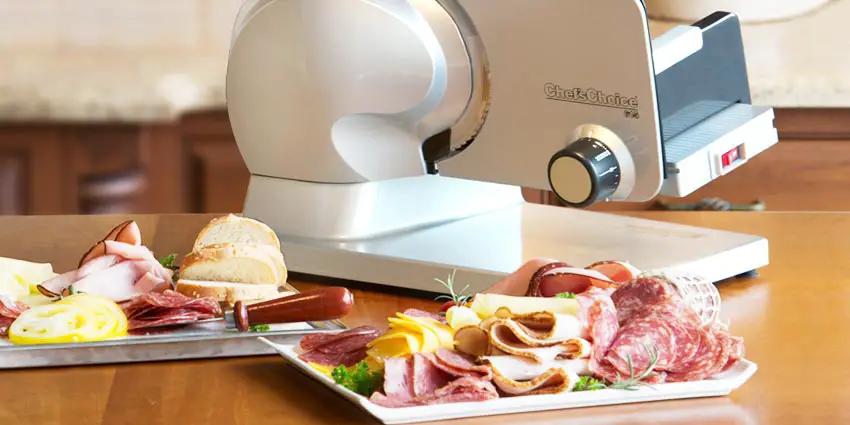 Although, if you're a dedicated deli fan, a top-level professional meat slicer may be more what you're looking for, to recreate your favorite meats in the comfort of your own home, for those who are simply looking to slice meats for salads, sandwiches, pasta or pizza, any of these basic, home-kitchen-standard meat slicers would do the job just fine – it's more a matter of how much you want to spend than what the functionality is.
Meat slicers don't just work on meats – they're also ideal for accurate, variable-thickness slicing of hard cheeses, fruits, and vegetables – so, being vegetarian or vegan is no longer an excuse not to invest in a meat slicer!
Moving back to the meat-eaters, a meat slicer is an ideal investment if you enjoy hosting dinner, breakfast, or brunch parties, as it offers the opportunity to quickly and easily dazzle your guests with an array of sliced meats, a definite addition to any sophisticated table.
Meat slicers also offer a good solution for those trying to cut down on their protein intake – with thinly sliced pieces of your favorite meat, you're still getting the flavor you love, but in a lower quantity – thus improving your health, and potentially granting you a longer life in which to savor the taste of the foods you love.