In a Hurry ? Quick Look at our Top Picks:
With simple, easy-to-use digital food scales, you can quickly and easily ensure you're using the right amount of ingredients, meaning that your recipe will be perfect every time.
Digital kitchen scales are ideal for those following a medical diet or those who are particularly into home baking. They're also great for hobbies such as soap making, which relies on exceptional accuracy, particularly when it comes to adding in lye.
Most food scales now have easy-to-read displays, and are easy to calibrate, meaning you can be certain of the accuracy of your reading.
Most models also come with an easy-to-use "tare" function, which allows you to weigh the plate or bowl you'll be using to serve, and then discount that weight from the overall weight of the food, ensuring you're getting exactly what you need.
When a gram less or more can make or break your project or meal, you learn to value accuracy – so, read our reviews, and choose the best set of kitchen food scales for you and your home.
Best Food Scales of 2021

Ozeri ZK14-S Pronto
Ozeri Pronto offer digital kitchen food scales in a range of colors to suit any kitchen décor scheme, including sleek, stylish black, which offers an excellent accent for almost any color scheme.
Ozeri scales come fully equipped with the latest generation sensor technology, for heightened sensitivity, and a wide, easy-read LCD display and broad weighing platform. At the touch of a button, you can easily switch between pounds, ounces, grams and kilograms, which means you can easily follow European recipes.
Some people have commented that the Ozeri Pronto, whilst advertising a high degree of accuracy at low weights, doesn't appear to offer that accuracy in reality.
Having said that, it is worth noting that it is unusual to find a home-kitchen standard scale that is accurate at low weights – most scales will fluctuate quite widely at lower weights, which can be frustrating if you are working to small scale, but require absolute accuracy.

DecoBros Digital Multifunction Kitchen and Food Scale
The Decobros kitchen food scale can be easily hung on a wall when not in use, to save on counter space, and offers a sleek, stylish, easy-to-use design.
However, it does have significant issues with accuracy, can be difficult to calibrate, and features an awkwardly-placed unit of measurement change switch, which can be frustrating to those who are regularly using both American and European recipes, and needing to switch between different systems of measurement.
However, especially considering its space-saving design, the Decobros may well suit someone who has just moved into their first apartment, and is looking for something that is easy to use, and can be kept out of the way when not needed, thus allowing them to maximize available space.

Digital Kitchen Scale by ZERLA
Zerla'sdigital scale offers compact, lightweight, easy-use design, with a good standard of accuracy, even at low weights, and the ability to weigh both liquids and solids, making it a good option for those who regularly cook from scratch at home, or the soap makers among us, who require accuracy when measuring their ingredients.
As it doesn't present the low-weight accuracy problems of other digital food scales, the Zerla may be the best option for those working in particularly small volumes.

EatSmart Precision Elite Scale-15 lb. Capacity
The Eatsmart Precision Elite is ideally suited to those following a medical diet, or who need to be exceptionally careful and accurate about their food intake for one reason or another.
Including a free calorie guide and batteries, the Eatsmart offers an extra-large, back lit display, which is exceptionally easy to read, and a stainless steel raised weighing platform.
It has been observed that, as the platform is only slightly raised and cannot be removed, it is difficult to clean the scale, especially when food falls down between the platform and the main body.
As with many home kitchen scales, the Eatsmart can exhibit low-weight accuracy issues, but, as long as this is taken into account, there should be no problem using the scale to prepare most meals.

Golden-Weight Multi-Function Stainless Portable Scale
Finally, the Golden Weight is far more than just a kitchen food scale – it offers the accuracy and functionality, weighing in troy ounces and pennyweights, as well as pounds, ounces, grams and kilograms, to weigh jewelry as well as food – although it has been noted that, if you're weighing gold, you'd be advised to use the cloth included, as the gold you're weighing can be difficult to see against the gold of the scale!
If you're just using the scale for food, that same gold coloring can add a touch of luxury and class to any kitchen.
With its back lit LCD display, lightweight, compact design, and high level of accuracy, even at low weights, the Golden Weight is the ideal scale for hobbyists, as well as kitchen cooks looking to impress.
Conclusion
While food scales are most commonly associated with ensuring you have an accurate amount of particular ingredients in a recipe, a good quality kitchen scale can be used for far more than basic kitchen cookery.
There are several hobbies, most notably soap making, that require an exceptional degree of accuracy with constituent parts – unlike many food recipes, which, on the whole, are quite forgiving, there is no margin for error where lye or glue ratios in certain hobby works are concerned.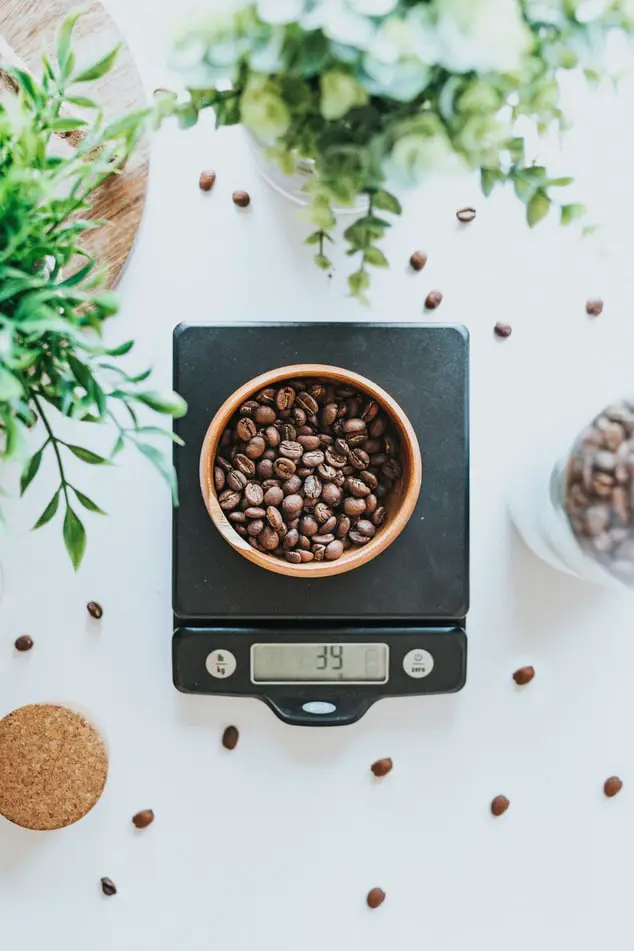 A kitchen scale is a worthwhile investment, whether you're making bread or soap, but, if you frequently work in low volumes, it is definitely worth paying a little more to ensure you get a scale which is known for low-weight accuracy – this is something many kitchen scales struggle with, owing to the difficulty ensuring precision calibration in a compact model.
It is often tempting, if you are simply doing basic cooking, to save a few bucks and go by the "guesstimate" of how much of each ingredient you need – however, certain recipes only work if the ratios of ingredients are precisely accurate, and, in these health-conscious times, it can be helpful to keep an exact track of how much protein, sugar, carbohydrate, etc you are consuming, so you know exactly how to adjust your diet for optimal health and/or athletic performance.