In a Hurry ? Quick Look at our Top Picks:
The other day, I happened to stumble upon a very interesting article that spoke about the Elektra Belle Epoque espresso machine. While an espresso machine is hardly fodder for headlines these days, what piqued my interest was that the Epoque retails for a whopping $20,000.
Oh yes, you heard that right. It is constructed from shiny copper, brass and looks more like a Star Wars droid than a coffee maker.
Talk about paying through the nose to get an unadulterated shot of Java to boost your dopamine levels and bring you from slumber land to good old earth.
If you are like other mortals, though, who do not have a fortune to spend to get a quality espresso shot, then you'll want to check out our recommendation for the best espresso machine.
Best Espresso Machine

Nespresso Inissia Espresso Maker
We start with the classic and infallible Inissia Espresso Maker from Nespresso. This is a pocket sized powerhouse that can give a lot of higher priced espresso makers a run for their money.
It produces the most delicious tasting crema that can easily rival the 'Starbucks' quality, which a lot of people use as a benchmark to analyze espressos that they make at home.
Beautifully designed
The Inissia may be the entry level offering from Nespresso but they haven't cut corners with the design or the performance. This has a durable plastic housing and an extremely compact form factor that will not eat up valuable counter space.
It weighs just 5.29 lbs and you can even lug it around for a weekender if you cannot live without your cup of Joe.
A folding tray allows you to switch to a larger mug if need be. Thanks to the 23.8 oz tank, you won't need to refill the machine until you have guzzled 7-8 cups of coffee.
The Inissia gives you your Espressos, Lungos and Lattes (if you buy the Aeroccino frother) at the touch of a button. There is no warm-up time either which lets you sleepwalk into the kitchen, press a button and get your coffee.
Great quality espressos
Nespresso's patented extraction system is among the best in the business and you get 19 bar pressure consistently even if you are making repeated espresso shots. The crema is outstanding and I am sure that you will have nothing to complain about the quality of the drinks with the Inissia.
The only caveat is that you can supposedly use it only with Nespresso capsules. But there are a lot of brands which sell capsules that are compatible with Nespresso machines.
Verdict: Reasonably priced, the Inissia gives you unbeatable value for your money and will keep your palates satisfied with most delicious and potent espressos.

De'Longhi America EN750MB Nespresso Lattissima Pro Machine
Despite being very impressed by De'Longhi's Lattissima Plus espresso maker, I felt that the Lattissima Pro deserves a place in this list instead due to some very significant differences in the performance.
At the forefront is the difference in the quality of the milk froth. If you love your lattes and cappuccinos then this can be vital. And while the temperature of the beverages in the Lattissima Plus can get lukewarm, the Pro has no problems in that regard.
The Lattissima Pro is an upgrade from the ground up which covers all the bases.
Eye Candy for your counter
Design has always been De'Longhi's forte and the Lattissima Pro will add much needed glam to your counter. It has a stunning brushed stainless steel body with a large LED touch display which takes guesswork out of coffee making. Six of the most commonly used beverages are given one-touch-access.
So, you can get your Ristretto, Espresso, Lungo, Cappuccino and Latte just about any time without any tinkering with the machine. Additionally, it also churns out hot milk and hot water at the touch of a button.
Also, you can alter the volume of the drinks if you need a larger one.
A detachable milk container produces steaming milk for the Lattes and the perfect frothed milk for the Cappuccinos. If there's leftover milk in the container, you can refrigerate it.
Automatic cleaning
One of the standouts of the Lattissima Pro is the auto-cleaning milk carafe. All that you need to do is turn a knob and the milk wand is cleaned by a 15 second jet of steaming hot water. That's a neat addition to an impressive feature list.
The Lattissima Pro works with Nespresso's Grand Cru Coffee Capsules and this lets you choose from up to 22 varieties of coffee. A large 44 oz water tank and a 19 bar pressure pump sum up this ingeniously designed package.
Verdict: The Lattissima Pro is clearly designed for the milk based beverage lover. It produces extremely tasty lattes, cappuccinos and more at the touch of a button and is extremely easy to clean and maintain.

Breville BES870CBXL 'The Barista Express' Coffee Machine
Breville has managed to pull a feather out of their hat by packing the Barista Express with almost all the features of a high end super automatic.
It boasts of a stainless steel conical burr grinder, a sealed bean hopper, a 15 bar Italian pump and an in-built purge function which ensures precise extraction temperature for espressos.
Beefy Appearance
The Barista Express has a beefy appearance that looks every bit professional. The stainless steel casing, the bean hopper on the top of the machine, the grinding cradle and the porta filter give it a very commanding presence that's reminiscent of commercial grade machines used in coffee shops.
There are a series of dials and buttons on the casing which let you select the coffee grind size and amount, the filter size, select the pressure (for experienced Baristas) and control the volume of the beverage.
A swiveling steam wand lets you texture your milk to perfection every single time. To make it extremely easy to use, there are two indicators which blink when it's time to clean the unit and empty the coffee puck holder.
Some of the other notable features include a hideaway storage compartment.
An espresso maker for skilled as well as novice Baristas
If you prefer hands-off operation for your coffee, then you will absolutely love the automation that the Breville Barista Express brings to the table.
The integrated burr grinder and two dual-wall, pressurized filters do the bulk of the work and you can sit back and watch the delicious espresso fall into the mug in under a minute from bean to cup.
On the other hand, if you prefer tailoring it to suit your taste, you can alter the grind size, select the amount of grind that will be used in the espresso and also change the tamping pressure.
Apart from allowing you to enjoy flawlessly extracted espressos, it also gives you enough room to master the art by tinkering with the settings.
When going automated, a 15 bar pump and thermocoil heating system ensure that you never go wrong with the extraction process.
Verdict: The Breville Barista Express is a worthy contender for the best espresso machine in the market currently. Despite being packed with features, it is normally priced under $600 which makes it a complete value for money purchase.

STARESSO Espresso Coffee Maker
No products found.
No products found.
To be honest, it was the Red Dot Award for product design that bought the Staresso Espresso Coffee Maker to my attention earlier this year. Upon a closer look, I was awestruck at the amazing concept.
Espressos and portability are not two words that you associate each other with. But believe it or not, the Staresso lets you enjoy a creamy espresso anywhere and anytime without compromising too much on the taste.
The perfect coffee maker for the outdoors
The very fact that you can enjoy your coffee with any coffee ground of your choice during your business or leisure tours or during a camping trip, makes the Staresso an option worth exploring. To top it off, it is ridiculously easy to use.
All that you need to do is add your coffee grounds to the coffee basket (I will talk about the design in a bit), hot or cold water and use the pump to make your espressos.
Despite the unassuming appearance, it creates a whopping 15-20 bar pressure producing the most delicious crema every single time. What's more, once you are done making your espresso, you can use the Staresso to froth milk making it a complete coffee maker.
Brilliant design
At just 330 grams without the glass, this is the lightest espresso maker that you will ever use in your life. The Staresso is crafted from a mix of stainless and ABS and it is designed for outdoor use. This means, it is rugged and can take a few bumps and knocks in its stride.
The stainless steel plunger (used for pumping) is easy to grip and locks into a recessed lid when not in use. Just twist it clock wise to lock it and anti clockwise to remove it.
The water chamber capacity is 2.7oz (80ml) which is barely enough for a single espresso shot. But for a portable coffee maker, it is more than sufficient, especially since there is no cycling time involved after making a drink. You can just make the next one instantly.
The Staresso is extremely easy to clean too. Just rinse it under water and store it away until your system craves dopamine again.
Verdict: The sky is the limit on what you can churn out with the Staresso Espresso Maker. If you travel a lot and love your coffee, then this is a must have in your backpack.
No products found.

Gaggia Anima Prestige Automatic Coffee Machine
This list of the best espresso machines wouldn't be complete without a fully automatic unit and what better choice than Gaggia's Anima Prestige coffee machine?
This is the top of the line in Gaggia's Anima range of coffee machines and it boasts of all the features that you'd want to enjoy a great espresso without greasing your elbows.
Mélange of form and function
The design is quintessential Gaggia. It is sleek with clean lines, a boxy frame and dominated by stainless steel on the front and a little bit of plastic on the sides.
The casing has clearly labeled buttons for your favorite beverages (espresso, espresso lungo, cappuccino and latte macchiato), a menu button which lets you get into the customizations and a separate button that lets you adjust the strength of the beverage.
An LCD display, a milk frother and an adjustable coffee dispenser complete what is a very beautifully designed machine. You will love to keep this on the counter even after its used.
Multiple Easy Customizations
A super automatic machine is mainly preferred for its bean-to-cup convenience. And the Gaggia Anima Prestige can give you your beverages in seconds without any effort. But if you'd like to go the manual way, it does not disappoint one bit.
The integrated ceramic burr grinder ensures that you get the freshest coffee ground tailored to your liking. The aroma adjustment button lets you increase the coffee grounds from 6.5 grams to 11.5 grams in five increments per espresso shot.
If you want it strong, go for the strongest dose which is shown as coffee beans on the screen. Further, you can also adjust the volume of the drink and most importantly, the temperature.
If you liked your coffee steaming hot, then you'd be delighted to hear that the Gaggia Anima Prestige can heat the water up to 184.5 F. That is as hot as it gets. The milk dual chambered milk frothing carafe delivers perfectly frothed milk into the cup.
Verdict: Despite the substantial price tag, the Gaggia Anima Prestige is undoubtedly the best espresso machine in this list. The automation, the manual settings and the durability make it completely worth the price.

Best Espresso Machine Buying Guide
If this is the first time you are shopping for espresso machines, then this list may seem a tad confusing. You may wonder why and how some of these machines made it into this list while some of the more aggressively marketed ones didn't.
Let me explain the criteria that I have considered for creating this list, which, as a Barista, I feel matter the most while selecting an espresso maker.
The Features We Look for in an Espresso Machine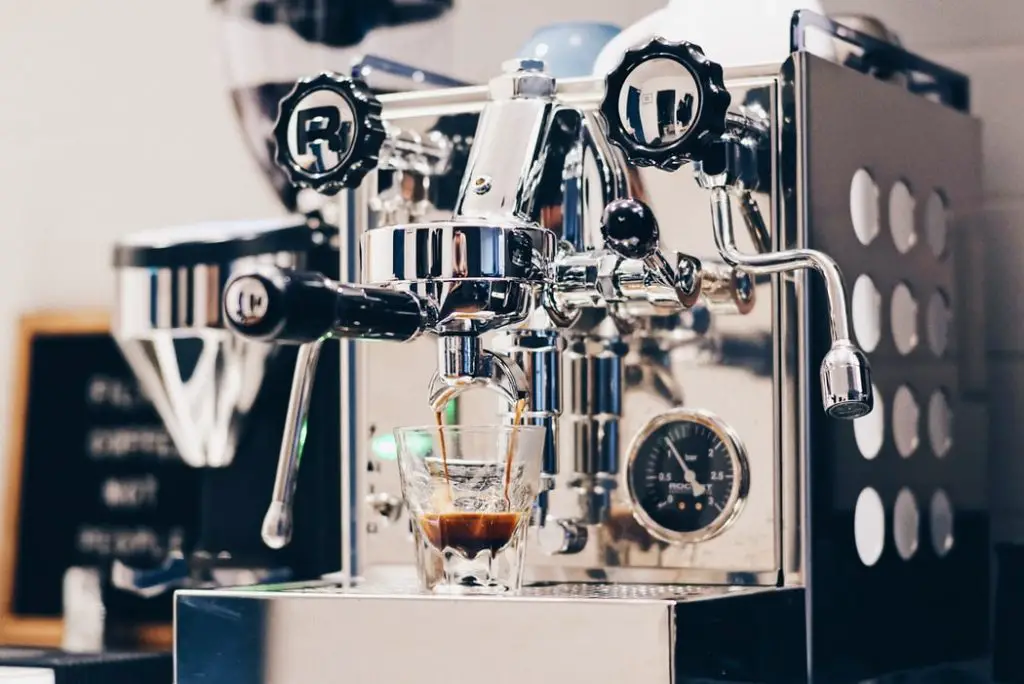 I have had the fortune to work on some of the old manual shot machines that require the perfect pressure to be able to produce rich and oily crema on an espresso. But when automation took over, I also worked with the much-hyped super automatics that boast preset settings for multiple beverages and let you go from bean to cup in a matter of minutes.
Having seen both ends of the market, I have created a list of features that I feel works best for all types of espresso lovers. From savants to ones who like a hands-off automated cuppa, here's what you should know about the best espresso machine.
The Price
It may not seem surprising that price is the first criterion I considered while creating this list. It's not just that not everybody wants to spend a few thousand dollars to get a quality cup of coffee. It's also that you might just be surprised at the quality of an espresso that you can get at pocket-friendly prices.
I have selected the best models at varying price points, from entry level models priced under $100 to high end models costing over $1000. This list has something for everyone.
The Pressure Pump
Any barista worth his salt will tell you that bar pressure is one of the most critical aspects of brewing a decent espresso. The standard that is used by international organizations and guilds is 9 bar. But most home espresso machines use vibratory pumps and have up to 15 bar pressure. That's the minimum that I have considered.
Automation
The very purpose of modern day espresso machines is to give you your espressos effortlessly. You do not want to manually tamp, grind, brew and pull a shot. So, an espresso at the touch of a button is a plus point in my book. Along with espressos, milk based beverages like Cappuccinos and lattes have their place too.
Grinder
The grinder is the most underrated but a critical part of the equation that never gets its due in the espresso world. If you have a good grinder, then even a $100 espresso machine can produce the most delectable espressos that can rival the $5000 super automatics.
The general consensus is that metal grinders can never produce the quality of a ceramic burr. But it would be impossible to include a ceramic burr grinder at under $100. So, this list does include a few tradeoffs.

Conclusion
That's it folks. Those are the top five espresso machines in the market currently that cater to your taste and at the same time, give you the convenience and the features that you desire. I hope you enjoyed reading through this.