In a Hurry? Quick Look at our Top Picks:
There used to be a lovely little Italian market around the corner from my office that sold fresh homemade pasta. Linguine, lasagna, spaghetti and even homemade filled ravioli fresh every day. I was a regular customer.
Then one day, the shop closed down. That meant no more fresh pasta daily for my dinner. I certainly haven't got time to be making fresh pasta every night when I get home.
For a while, it became an occasional weekend, when I had time to spare. That was until I discovered electric pasta makers. If you want to make pasta regularly, an electric pasta maker makes it easy.
Here we look at five available models, and the many factors you should consider when choosing one.
Best Electric Pasta Maker

#5 Ovente Revolutionary Electric Pasta Maker
This electric pasta roller maker from Ovente is a high-quality solid construction of a machine. A heavy duty plastic cover encloses high grade 304 stainless-steel components in an attractive red casing.
A 90-watt motor ensures your pasta is rolled to the perfect degree of thinness. It has nine adjustable settings, from a super thin 0.5mm to a thick 3mm.
The Ovente pasta maker will effortlessly roll out sheets of lasagna with a built-in cutter for spaghetti and/or fettuccine. The rollers are versatile enough that you could even use it to roll out cake fondant or flatten polymer clays.
Pros:
High-quality construction—you will be making pasta for many years to come with the Ovente.
Can be customized for varying degrees of thickness.
Built-in cutter saves the need for extra attachments.
Easy to clean—just use a brush or wooden rod on the rollers to remove debris.
Cons:
Heavy, at over 9 pounds.
You still have to make the dough manually.
Very loud in operation and blades can squeak when cutting.

#4 KitchenAid KSMPRA 3-Piece Pasta Roller & Cutter
When you say KitchenAid, you instantly think heavy duty, and these attachments for a KitchenAid mixer are no exception. It's a testament to the quality of these pasta rolling attachments they are actually made in Italy.
This set comes with a pasta roller and two cutter attachments, for fettuccine and spaghetti. They can be connected to the multi-purpose hub on any KitchenAid stand-style mixer.
The rollers have eight different settings for thickness, and it can even achieve thin angel hair dough.
With the KitchenAid mixer, you already have half of an automated pasta set up—the part which makes the dough. You can even buy an extruder attachment from KitchenAid which allows for a wide variety of pasta shapes. An additional 2-piece cutter attachment set allows for making extra wide lasagna noodles or very thin capellini noodles.
Pros:
Durable all-metal construction will withstand more wear and tear for longer.
Ideal for beginners—allows for use of both hands and at just the right speed when attached to the mixer.
Easy to clean with the included brush to wipe dough off pasta roller. But don't use water, and it's definitely NOT dishwasher safe.
Cons:
Requires a KitchenAid stand mixer.
Expensive and only includes cutter for two types of pasta. Extra cutters will increase the price.

#3 Philips Compact Viva HR2370/05
The first of two Philips automatic pasta makers we look at, this is a compact machine which easily fits on most countertops.
In comparison with the machines we have already looked at this is a fully automated pasta maker. Just put the ingredients into the mixing compartment and about 18 minutes later you'll have 2-3 servings of fresh pasta.
The mixing is done by a unique stirring bar, before being extruded through a long kneading tube and attached disc. Three discs are supplied, which are ideal for spaghetti or fettuccine.
You can also purchase a disc for tagliatelle, pappardelle, angel hair or lasagna if you want more versatility.
Pros:
Easy to use with all parts removable for cleaning.
Fully automated and works fast. Even mixing performed by a unique stirring bar.
Compact with built-in storage for shaping discs—saves countertop space.
Cons:
Limited choice of shaping discs included—you will need to purchase extra discs separately.
Capacity may be too small for larger families.

#2 Atlas Pasta Machine with Motor Set
This Italian pasta maker is one of my personal favorites. Some argue that it is merely the manual machine with a motor tacked on the side.
If you want a traditional style pasta maker without the chore of hand cranking, this is the machine for you. Atlas has been making this machine for many years, with the same stainless steel and anodized aluminum finish for durability.
You will find the elegant design of an Atlas Pasta machine in many Italian kitchens. This one comes with a 110V motor for the US market, which pushes up the price slightly.
There are many attachments available for this roller, for different styles of pasta. My favorite is the ravioli press which rolls and pops out perfectly-filled ravioli parcels every time.
All the attachments, including the fettuccine and spaghetti cutter provided, are of the same high quality as this durable machine.
Pros:
Reliable and durable—this pasta maker even comes with a 10-year manufacturer's warranty.
Two different speeds of the motor, along with nine adjustable thickness levels allow for the perfect consistency of pasta.
Includes a sturdy clamp for securing onto a countertop.
Cons:
Expensive for what is, basically a manual pasta roller with a motor assist—you still have to make the dough yourself.
Can be difficult to clean with nooks and crannies where dough often gets stuck.

#1 Philips Avance HR2357/05
The second Philips fully automated pasta maker we chose is one of the quickest and most simple to use pasta makers.
With a built-in food processor for mixing and a force of over 1400 pounds, your pasta production will be effortless. It can produce a pound of fresh pasta in less than 15 minutes.
Four shaping discs are included, to make spaghetti, fettuccine, penne and lasagna. It's easy to use with an LED display, and even comes with measuring cups, cleaning tools and scrapers. At the bottom of the pasta machine is a drawer for storing accessories.
An included recipe book allows you to experiment with different ingredients like herbs, spinach or carrots to personalize your pasta. All you need to do is add the ingredients and the machine will take care of the mixing, kneading and extruding.
This pasta maker is something you will use for many years; the different combinations and additional accessories provide amazing versatility.
Pros:
Easy to use and clean. LED display for control and removable dishwasher-safe parts for cleaning.
Shortest time from adding ingredients to extruding pasta of any maker we looked at.
Comes with a free recipe book, including gluten-free pasta ideas.
Cons:
No facility for allowing the dough to rest before extrusion, although this can be set manually.
With a built-in food processor of 16 inches by 12 inches and standing 13.4 inches high, a larger countertop is needed for this pasta maker.
The Avance doesn't automatically cut the pasta lengths – a manual operation is required to cut it as it extrudes.
Our Choice
Fresh homemade pasta doesn't need to be reserved for the weekends anymore. With any of the pasta makers we have looked at, you could be enjoying fresh pasta every night after work.
Buying an electric pasta maker will mean you no longer need to buy dry pasta from the grocery store again.
The Philips Avance Pasta Maker H2357 is, in my opinion, the best fully automatic pasta machine on the market. The capacity and speed mean you could be enjoying fresh pasta within 20 minutes of walking through the door.
While the machine is making your pasta, you can be whipping up a sauce or grilling that perfect steak.
Why Choose an Electric Pasta Maker?
Making pasta at home can be a time consuming and messy affair. Traditionally, most homemade pasta is made using a manual rolling machine.
If you have a mixer, you can often use this to cut down the time required by mixing the dough. However, the most time will be spent rolling out your pasta. It's hard work to roll it thin enough with a rolling pin.
Italians have been using manual pasta rolling machines for centuries. You will need a large surface to work with, a clamp to hold it steady and plenty of elbow grease.
By comparison, an automatic or electric pasta maker will often mix the dough, depending on the model you choose. An electric motor can save you from cranking a handle, and makes it quicker to make larger amounts of pasta.
And depending on the cut of your pasta, shapes like farfalle or ravioli will have a more uniform appearance.

What to Look For in an Electric Pasta Maker
In general, there are two categories when looking for a pasta maker: extrusion or roller machines. Each machine has its own advantages for different forms of pasta.
Roller Pasta Makers
Most manual machines are roller machines, although you can also get motor assisted pasta rollers. As the crank is turned, it flattens the dough at different thicknesses between the rollers.
Normally, you would need to put the dough through several times to get the required thickness before cutting into shape.
Electric pasta rollers will still require you to make up the dough, but can take much of the hard work out of rolling. If you want to make a sheet of pasta, e.g., for lasagna or ravioli, then a roller is the only way to go.
Attachments for pasta rollers will also allow you to cut spaghetti, fettuccine, linguine, and even fill ravioli.
Extruder Style Pasta Makers
Most electric pasta machines tend to be of the extruder variety. Most pasta extruders mix the dough and extrude the pasta for you, leaving you plenty of time for other tasks.
You simply place the ingredients for your dough in the machine and it does the rest.
The dough is mixed in the machine, before being forced through a tube and out of a die-cut disk at the end. Depending on the disc used, you can produce spaghetti, fettuccine, linguine, lasagna noodles and more.
More delicate designs, like farfalle, are simple to produce if you have the right attachment.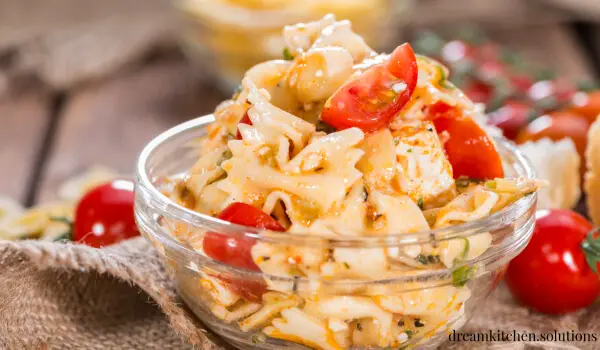 Unfortunately, you may not be able to produce wider pasta forms like lasagna sheets, although you could still use the machine to mix the dough.
For somebody who makes large amounts of pasta regularly, an extruder is the obvious choice.
Thickness of Pasta
With either type of pasta maker, the different levels of thickness it offers will affect the versatility it provides. For extruder machines, the thickness will be determined by the discs included. You can often purchase extra discs if you want your pasta thinner.
Most roller machines have an easy to operate dial on the side, which will slowly reduce the thickness, sometimes up to 10 different grades. You may want to check the width of the rollers too. A pasta roller should always offer a decent-sized feed, so it can handle large sheets of dough.
Some pasta rollers are up to 18 inches or wider, but these normally cost more than standard rolling machines.
Attachments and Accessories
All the machines we have looked at are supplied complete with attachments; one is even an attachment itself. Pasta rollers normally have a fettuccine/linguine/spaghetti cutter as standard, with additional cutters also available.
For extruders, the number of discs included will determine which types of pasta you can produce.
Cost and Build Quality
Like most things in life, you get what you pay for. Electric pasta makers can start at $100 and go up to $500 or more for professional models. Of course, the machine should produce quality pasta, but you will also want one that lasts.
Stainless steel models tend to last longer and can be easier to clean than plastic. Try to choose a pasta maker which has parts that are easy to remove for cleaning and simple to reassemble.