In a Hurry? Quick Look at our Top Picks:
Cotton candy; those wafting wraps of sugary sweetness, whose smell is the ever-present memory of many a happy childhood, coupled with the pleasant roar of a fairground or carnival in full flow, lights dancing in front of eyes opened wide in childlike wonder.
Now, thanks to a range of easy-to-use, small-scale cotton candy machines, you can recreate those heady days of childhood summers in your own home, whenever you like – no need to wait for the circus to come to town!
Best Cotton Candy Machine

With more advanced machines, featuring heavy-duty motors, there's also the possibility of quickly producing professional standard cotton candy, ideal for those who regularly operate concession stands at events and fairs, and are looking to offer something a little different.
Whatever you're looking for in a cotton candy machine, we're sure you'll find the perfect piece of equipment, thanks to the following handy reviews.
(And if anyone raises their eyebrows about you buying one of these, remind them that cotton candy was invented by a dentist!)

The Best Cheap Cotton Candy Machine
Nostalgia Retro Hard
The Nostalgia PCM805RETRORED comes with a clear rim, so you can watch the sugar-spinning action as it happens, along with a range of accessories, and a built in suction cup for increased stability while in use.
The rim also doubles as a safety shield, keeping the cotton candy in the machine, where it belongs – and not on your clothes, walls, or floors!
With its stylish retro design, and eye-catching red coloring, the Nostalgia is ideal for home use,offering an attractive focal point, and can be easily and completely disassembled for cleaning, a definite boon after fun-filled parties!
The one drawback to the Nostalgia is that it can be a little slow and noisy in operation, but the latter is hardly likely to be noticed at the kind of parties where cotton candy is likely to be a surefire hit!

The Best Cotton Candy Machine for Children's Parties
Funtime FT1000CCP Candy Cloud
The Funtime FT1000CCP comes in an attractive and fun vintage design, in pink, and mounted on a cute little cart – an ideal addition to little girls' birthday parties, and a definite throwback to summer nights at childhood funfairs.
It is easy to clean, although the lack of assembly instructions can prove somewhat disconcerting at first, and it is worth observing that the cart is more for appearance than functionality, but would still be a definite draw for children at parties.

The Best Semi-Pro Cotton Candy Machine
Paragon Classic Floss Cotton Candy Machine
The Paragon Classic Floss Cotton Candy Machine takes a step up, into the realms of the semi-professional, offering cotton candy concessions at local fetes and events.
With a powerful, heavy duty motor, the Paragon can easily produce 100-200 spools of cotton candy an hour, meaning you can quickly satisfy the sugar lust of all those eager faces, ready and waiting for a taste of sugar-spun heaven. It also offers professional controls, making it incredibly easy and intuitive to use.
It has been noted that there is a fair amount of sugar wastage with this machine, but that is to be expected, and can be minimized by cleaning the machine through at intervals during a day's use.

The Best Cotton Candy Machine for a Small Business
Spin Magic 5 Cotton Candy Machine with Metal Bowl
Also from Paragon, the Spin Magic is made of stainless steel, featuring a metal bowl, and offering easy cleaning and sturdy durability, and, like the Classic Floss, offers fast operation, although the Spin Magic is more suited to purely domestic use, and you would probably be wise to purchase a plastic shield along with the Spin Magic, to avoid getting covered in strands of sticky, spun sugar!
As with all cotton candy machines, cleaning is paramount – when you're spinning heated sugar, it will clog things quite quickly, so periodically stopping the machine for a good wipe down is very important.
It has also been noted that the assembly instructions for the Spin Magic are a little unclear, which can be frustrating.

The Best Cotton Candy Machine for Beginners
AmeriHome CCMAKER Cotton Candy Maker
Finally, the AmeriHome CCM offers simplicity and practicality for those looking for occasional, light use, such as a one-off birthday party treat, and comes in a soft pink color that little girls will love – and which is almost guaranteed to stimulate the happy memories of those little girls' moms, aunties, and grandmas!
It is reasonably quick if you're just using it at home, making a stick of cotton candy in about five minutes – if you're having a lot of children over for a party, it may be worth investing in a slightly faster cotton candy machine, but for the average family, the AmeriHome does the job just fine.
The AmeriHome comes with suction cup feet, for complete stability and safety whilst in use, and, while it can produce quite a bit of mess, it's not a bad first machine for those new to making their own cotton candy – and, after all, sometimes, getting messy is all part of the experience!

Best Cotton Candy Machine Buying Guide
Who Needs One of These?
While a cotton candy machine may seem little more than a fun accessory for a child's birthday party, or a way to keep young family members occupied over the festive period, it's not limited to a way to entertain the kids at home – with the right machine, a cotton candy maker can be a money-spinner, as well as a sugar-spinner, going down a treat at country fairs, school PTA drives, and neighborhood events that are looking for something slightly different in their concession stands.
Cotton candy is a simple, sweet winner – appealing both to the natural sweet teeth of children, and the nostalgia for their own childhoods of their parents.
So, why not have a bit of indulgent fun, and buy a cotton candy machine, either purely for the home, or to start a small, fun sideline at summer events?
Even if you're happily house-proud, a cotton candy machine need not cause undue problems, provided you invest in a plastic shield to limit mess, and keep most of your cotton candy in the machine!
What Is Cotton Candy, Anyway?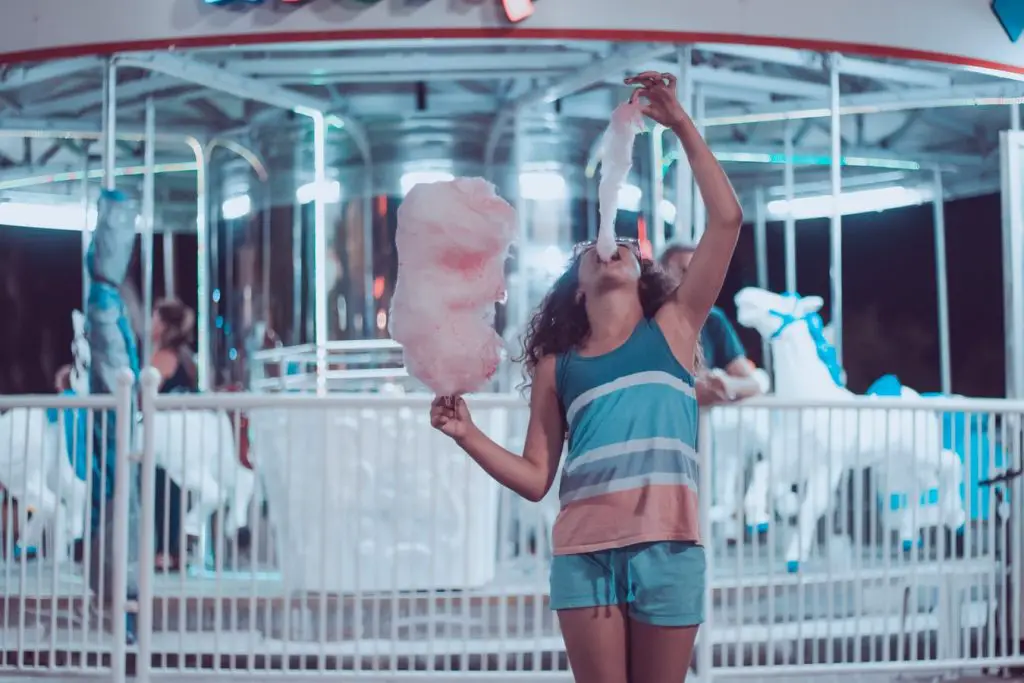 While most of us probably remember having cotton candy at fairs and carnivals, we probably don't know much about what went into it beyond the fact that it tasted great! These days, of course, people are rightly very conscious of what they're putting in their bodies, and the bodies of their children.
While cotton candy is – as you might suspect – almost entirely sugar, it is fine as an occasional treat, and can be made healthier by using fruits, rather than commercially-available dyes and syrups, to color and flavor the spun sugars.