In a Hurry? Quick Look at our Top Picks:
There are an awful lot of different multi-use kitchen products out there, but perhaps none more useful than a food processor and blender combination.
Two items that are each extremely useful in their own right, and when combined they become both economical and a space saver. You get all of the benefits of a food processor, and believe me, there are a lot of things you can do with one of those.
And you'll also get the benefit of a blender, which has one primary use that it does very, very well. People debate with themselves over whether to purchase a food processor or a blender, so it was really a stroke of genius to combine these two. 
There are many different brands on the market to choose from. Here are 5 models we'll recommend later in this article.
Best Food Processor and Blender Combos

Ninja Mega Kitchen System
Ninja produces an awful lot of blenders. They're one of the leading brands in the field and with so many different products it can get a bit confusing.
The Mega Kitchen System is the main one we want to talk about though. It's an outstanding food processor and blender combo.
With a whopping 1500 watt motor it is up for pretty much anything. You will never have to worry about not having enough power for a specific recipe.
This will suffice for any task that you would expect from a food processor or a blender and the motor burning out isn't a concern either.
You'll be able to do all of the food processor staples like slice vegetables and make nut butter. It'll make great hummus too. And any of your blending needs will be covered.
Smoothies and soups are easy with the Ninja. It's also quite slim, which is a big plus and there's not much to it in terms of parts. It won't take up a whole lot of space in the cupboard and you could leave it on the countertop at all times if you wanted.
It's hardly an eyesore and it's not big or clunky enough to get in your way while you're doing other stuff. 
The bowl's not massive. It can hold 8 cups so you might be a tad bit limited if you're making a lot of dough or bread, but for most things 8 cups is fine. You can't really go wrong with this one. There's nothing out there for this price that can match its power and versatility.

Oster BLSTVB-103-000 Versa
Another well-known blender brand, Oster tends to be very reliable and is usually good value for money too.
With a 1100 watt motor it's not quite on the level of the Ninja but it's more than capable of getting the job done. 
It's also got a somewhat smaller work bowl too. This is only a 5-cup machine which is still good for most recipes but you probably won't be making dough in it.
It does have high-quality blades which are also dual directional. That's a really great feature because it prevents food from getting jammed while the machine is running.
Not a whole lot of the other products have this capability so that's a big advantage for the Oster.  Another handy addition are the blend-and-go cups. There's a few different sizes and they're very convenient for single servings.
If you wanted to get a quick smoothie together before you head out, this device gives you that without the need to set everything up first. 
So while it might be a bit too small for some people's tastes, and can also be a little loud, it's great value for money overall. Definitely one of the better choices for a food processor and blender combination. 

Ninja Nutri Bowl Duo
Yep that's right, there's another Ninja on this list and it's also placing high. They're just that good. 
The first thing you will no doubt notice about this one is just how compact it is. It's very slim, very well-designed and there is very little in the way of assembly.
The motor is terrific. It's 1200 watt, which is powerful enough for any recipe you can think of and it's one of the most durable products on the market. This also comes with a couple of handy on-the-go smoothie cups which is really nice and it's got a 4-cup work bowl.
As I'm sure you've noticed, that's even smaller still but it's still about the appropriate size range for a standard processor & blender combo.  Something really cool that this one has is an Auto-iQ function. You can use this to preset certain mixes which allows for hands-free processing.
So it's extremely easy to store being the size that it is and overall it's one of the strongest personal blenders on the market. It's perfect for making smoothies and it's also great for the smaller jobs like making salsa sauce and various dips.

Hamilton Beach Power Elite
Hamilton Beach is another brand name that you've probably seen quite a bit of if you're on the hunt for kitchen appliances and there's good reason for that.
They make some very good, very affordable machines that are well worth considering. Especially this combination here. It's not intended for much of the big jobs. The appeal of this is how much it offers you for the low price.
The machine is very small and easy to store, with just a 3-cup processing bowl, but it has a deceptively strong 700 watt motor.
It's better at blending than it is processing and you probably won't get any nut butter out of it, but it does serve as a decent food processor. It won't struggle at all with chopping and slicing vegetables and will definitely get the job done for any blending needs.
It has a whopping 12 different blending functions. Milkshakes, purees, smoothies, frozen drinks, salsa, there's many different built-in functions for you to try.
So if what you're looking for is a very good blender that will serve for smaller food processing jobs, you'll get exactly that with the Hamilton Beach. And you'll get it for a splendid price too.

Ninja Master Prep Professional
No your eyes are not deceiving you, this is in fact yet another Ninja product. You've figured this out already, but we're fans of this brand.
Compared to the other two which have noticeably strong motors and are versatile in their capabilities, this one goes for a much simpler approach.
What the Ninja Master Prep offers you is a great price on a product capable of all the small jobs. The processor bowls and the blender are all on the smaller side but that's part of the usefulness of this product.
It will take up virtually no space at all and it does in fact have a very decent motor. At 450 watts, it is the weakest of our choices, however it is more than sufficient.
You will easily make a good smoothie with that and if you want to use it to chop up your vegetables that won't be a problem either. It comes with multiple blades and a few different sized bowls, all of which are dishwasher friendly.
It doesn't look like much, and of course, there are products that are definitely superior, but this is really terrific value for money all things considered.
Considerations Before Buying
With a machine like this one, there's really no end to the amount of recipes that can tackle. 
But you definitely want to make sure that you get as much good out of it as possible. There's a lot of different things that you need to think about.
Across the wide variety of different brands producing these combinations, some of them are going to be better in different areas than others.  So what factors do we need to consider before deciding on a product? Let's have a look through them.
Power
You should definitely be looking for a high-powered motor here, preferably something with wattage higher than 500. 
With this being a combination, there's both a wider variety of things it will be expected to do, and you're also likely to be using it more often. Machines with less powerful motors can probably do a lot of what the high-powered ones can, but there are risks.
Overuse of low wattage motors can cause them to burn out sooner. It can also cause the blades to dull over time which inhibits the machine from doing much good work.
If it was just a food processor you wanted, power would be less of a concern but blenders typically require a stronger device.  A weak food processor is still pretty satisfactory when it comes to chopping up vegetables, but a weak blender makes a chunky smoothie.
Nobody wants chunks in their smoothie. I actually got a tad bit uncomfortable just typing about the prospect.  High-powered motors are absolutely essential to liquefy your ingredients so try and pick something capable of over 500 watts.
Settings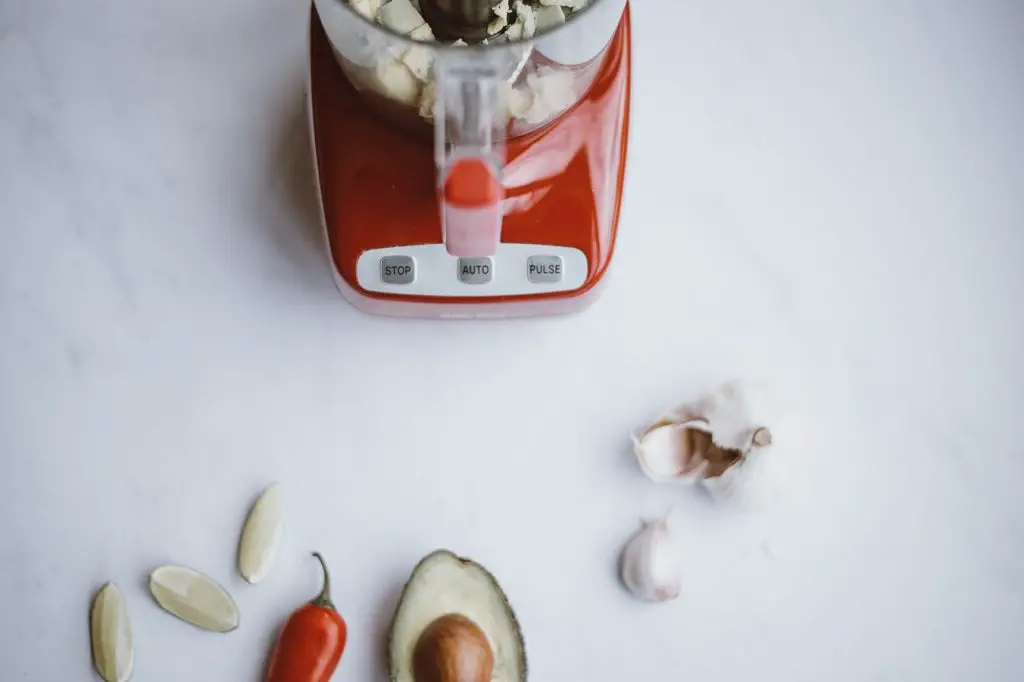 What we are primarily talking about in this regard is the speed settings. Pretty much every machine of this kind has a pulse setting.
The pulse setting does exactly what the button says. It pulses the blades to allow for slower, more controlled chopping.  This is the same on almost every model. There's not a whole lot of wiggle room in terms of what you can do with the pulse.
It's how much of a variety of speeds it has that you should concern yourself with. You should be looking for one with four speed settings or more.
There are a lot of different things these machines are expected to do, and each one requires a specific speed setting.
If you pick one that has less than this, which unfortunately a lot of them do, then you are settling for a machine that won't reach its full potential. There will be some functions that a machine with fewer settings will be able to achieve, but it's very limiting.
Your best bet is to just avoid the complications altogether and get a machine with a sufficient amount of speeds. 
Size
Many of you out there that are conscious of how much space you have in your kitchen so size is very important.
The combination machines tend to be a little bit bigger than the food processors and blenders by themselves.
You are probably going not going to have much luck finding a good machine that won't take up much space, but you can get ones that are easier to manage.
Some products are large but have a slimmer or less chunky build so make sure to look out for those.
They will also take up less space in your cupboard if they can be assembled and disassembled conveniently. This is an advantage some machines have over others. Look for one that isn't burdened with a whole load of different, complicated parts. The simpler the better in this case.
It's also worth taking notice of how big the work bowls are on these products. Again, you will be limiting what you can do if your machine lacks much space for ingredients.
Safety
If you've got a good machine it's going to have sharp blades. You're no fool I'm sure but even the best of us can fall victim to an unsafe appliance.
The product you choose should have an in-built locking system. It's important that the machine won't run unless the lid is locked in place. Anything that doesn't have this function is just creating an unnecessary risk for those using it.
Thankfully, the majority of machines do have this function so it won't be much of a chore to find one.
At the end of the day, blades are sharp and even the best safety features might not save you from a lack of caution. So take care. Those blades are razor sharp and you probably don't want blood in your peanut butter. It's not a recommended ingredient.
Conclusion
So to sum up, there is many, many different choices here for food processor & blender combos. And most of them are Ninjas.
But even outside of that brand there is some very good stuff. You are guaranteed to find one that suits your needs and your kitchen.